Despite the cold weather, more than 55,000 people flocked to Clerkenwell Design Week in London to peruse 50 permanent showrooms and many more temporary exhibitions inside a variety of interesting buildings, popups, and outdoor sites.
London easily plays host to a hybrid show like this. Clerkenwell has one of the world's highest concentrations of architects and designers, and this has attracted office furniture and interiors' companies to the area. Everything is so close together and walkable, from one side to the other, in less than 15 minutes.
Also, many of the buildings are interestingly old and attractive, even if that means they are sometimes tricky to use efficiently. Outdoor areas included the beautiful Garden and Cloister of the Order of St. John, which displayed Cane-Line products.
The prisoners' cells in the House of Detention, formerly a Victorian gaol, provided nicely spooky spaces to show creations from younger designers.
During the day, most of the permanent showrooms concentrated on the serious business of presenting products, some of it newly launched. Among the many noteworthy talks and products were the following:
Humanscale's Shane Cohen explained why lower ambient and adjustable task lighting was healthier, greener, and improved efficiency. This well-attended event started at 8:30AM, and the bleary-eyed participants were well-rewarded with an explanation that enlightened a previously murky topic that had been surrounded in mystery. Achieving good workplace lighting is really not difficult.
French designer Marie-Virginie Berbet presented Haworth's nap pod, CalmSpace, a sleeping capsule for taking power naps at the office. Shown first at Orgatec in Cologne in October 2012, this revolutionary large sleep capsule will not be welcomed by all managers; however, most of us have at one time or another hankered after the opportunity of a powernap and felt much better after it.
Christopher Duffy's excellent Swing Table caused a real stir with its steel cables supporting free-floating bucket seats around tables designed to encourage creative collaboration. The sensation of swinging while sitting at the table was exhilarating, and it's easy to imagine the creative vibes that would be generated in such an environment. Brilliant!
The large and well-located Vitra showroom doubles as the company's UK headquarters, where they were attracting attention with their feature — the "citizen office" project. They also exhibited several new products displayed in hubs created using Workbays.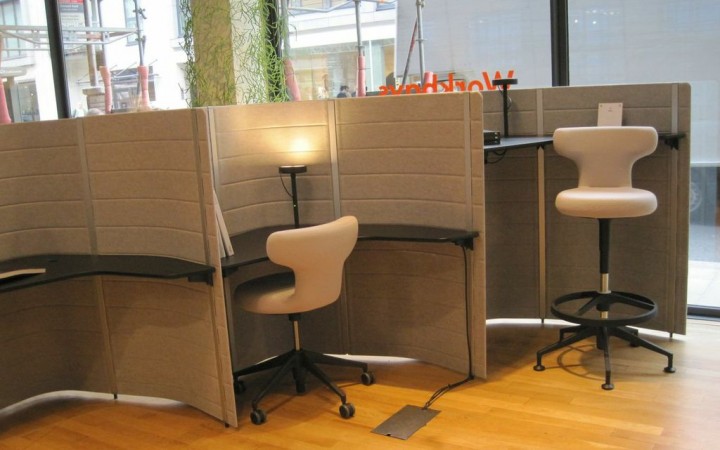 There was more collaboration-friendly furniture from the British company, Connection. This company started a few years ago with just simple soft seating, but aided by British designer Roger Webb, it is now leading the way in joined up thinking for breakout areas.
Their furniture now caters to collaborative working, presentations, small meeting areas, and personal concentration spaces. Their new integrated Liquid Workspaces system creates meeting, collaboration, and learning environments. And the extended Hive products from Webb included presentation areas. Very imaginative and attractive.
In summary, Clerkenwell Design Week 2013 was successful for the visitors, exhibitors, organizers, and sponsors alike. In four years, it has grown from being a forum for young designers to become a fully fledged, professional design-led event on an international scale.
To have achieved that in the really tricky market conditions of the past few years is no mean feat. The success has been helped by Clerkenwell itself — with its exciting melange of history, architecture, and quirkiness – which has attracted architects, designers, and office furniture and furnishings businesses into one small area of a major world city.