In the wake of the latest diatribe against open office plans, Kay Sargent, director of workplace strategies for Lend Lease, says the vitriol is misguided. Google didn't "get it wrong" and the open office trend isn't "destroying the workplace". Here are six approaches to creating more harmonious workspaces, open or otherwise.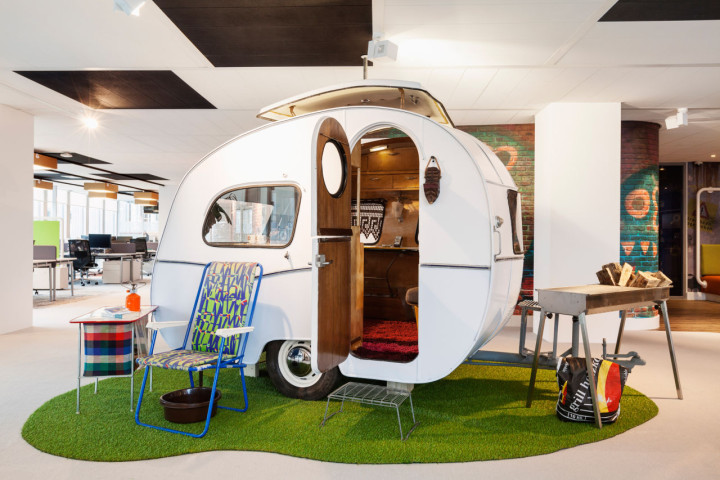 In 2008, companies across the nation were forced to dramatically cut costs and reduce space. The changes were billed by many as zeitgeist-y transitions to open plan offices that enable collaboration. But, in the rush to get things done, a true understanding of how to create and use space that supports collaboration, engagement, and performance went missing from many of those plans. Many of them resulted in horror stories like the Washington Post's recent, much-commented "Google got it wrong. The open-office trend is destroying the workplace". But does it surprise you that dragging employees, kicking and screaming, into a new open office isn't productive? The right environment depends on the type of work a company does, its demographic, and the company's culture. The right solution will vary from company to company, and sometimes even amongst departments within the same organization.
Here are six things to keep in mind if you want to create a more harmonious work environment—open or otherwise—that may actually boost employee morale and performance.
1. You don't have to offer yoga. Your employees are already super flexible.
The most flexible thing in any office is the people, yet most offices in the past were designed to support totally sedentary behavior. Now, employees rarely sit in one place all day. We work differently today than we did even five years ago, and what we do day-to-day or even hour-to-hour can vary significantly. We need to give people options. If we did to the fashion industry what we have done to the workplace, we would all be walking around in a unisize red dress. And would you want to see each one of your coworkers prancing around in the same unisize red dress? Didn't think so.
We need to give people options. By assessing a company's DNA we can determine what type of workplace best fits the needs of their workers.
By assessing a company's DNA—which includes corporate culture, work styles, worker demographics, organizational structure, regional influences, and the industry—we can determine what type of workplace best fits the needs of their workers. And the ever-expanding variety of needs accounts for the growing popularity of activity-based workplaces in U.S. In activity-based workplaces, we create task-oriented solutions that encourage movement and empower people to select the right space for the task at hand. It's sort of like a house, where you have different spaces for different functions: a kitchen for cooking, a bathroom for bathing, a bedroom for sleeping.
2. Speaking of sitting, have you heard? It's killing you.
Sitting stagnantly at a desk in a chair staring at a computer all day is killing people faster than whatever the wall across from them is off-gassing.
Novelist John Le Carre wrote, "A desk is a dangerous place from which to watch the world." He no doubt had deeper meanings in mind, but from a pure productivity perspective, he was exactly right. Overly sedentary work environments create all kinds of unintended consequences, not least of which is decreased productivity. Getting people up and moving is not only essential for their own personal health and well-being, but studies show that active workers are happier, more engaged, and more productive.
3. What's good for the Goog is not necessarily good for the gander.
We took the clickbait: Any headline that says "Google got it wrong" is bound to catch attention. But we don't think that Google gets it wrong. We think Google gets it right—for Google. The folks who get it wrong are the ones who try to slap Google-like space and policies onto their own organization without understanding what it is that they really need.
Workplace policies and needs vary widely by organization, which means the right types of workspace will vary, too.
Take, for example, a recent survey by CoreNet Global, JLL, Cisco, and Teknion that asked corporate real estate execs what strategies they were employing to increase the efficiency of their company's space utilization. Seventy-seven percent of responders said open workspaces with fewer offices. Unfortunately, unless that 77 percent's previous space usage was grossly inefficient, going from offices to an open plan is usually just a shifting of space that doesn't actually result in any meaningful reduction of square footage (especially if they're trying to increase collaboration, too).
The companies that are saving big money on their real estate are the ones reducing the number of desks and altering the desk-to-employee ratio. Historically, if a company had 100 employees, they had 110 desks—some for visitors, interns, growth, and so on. But today, companies that are highly sales or consultative based want employees out in the field, meeting with clients. Many companies are realizing that the office is underutilized 40 to 60 percent of the time, so desk sharing is an option. For them, 100 employees might only require 60 desks, because employees are externally mobile. This is all a long way of saying that workplace policies and needs vary widely by organization, which means the right types of workspace will vary, too.
4. Noise is a problem – but in many cases it's the lack of it that's the issue.
Noise has always been one of the top complaints in the work environment, both open and closed. Many times acoustical distraction is an employee's biggest gripe about open spaces, in which case: look into better acoustics. But sometimes the problem is that the office is too quiet. With quieter keyboards, more texting, and fewer people communicating via phone, there is no background noise or "hum" that muffles general office sounds. If you've ever done work at a Starbucks or a Panera, you know you can concentrate quite well in those noisy environments. The real problem is when you are in an environment where you can hear clearly what people are saying and privately you wonder, Are they talking about me? or, Is it a juicy tidbit about my coworker? Stuff like that is nearly impossible to ignore, and it's is far more distracting than general background noise. Designing environments that allow for that hum to be created while balancing it with quiet zones affords people the opportunity to function at a higher level.
5. Repeat after us: Change. Management.
The way we work is changing, but too often our habits are not. If we want people to work differently then we need to help them make the transition. You can't give someone who has always driven a tank a Porsche and expect smooth results. Change management, or "forward facilitation" (as I prefer to call it), is needed to help establish the new protocols, ways of working, and behaviors that we want to encourage or discourage. It takes time with employee engagement, management training, and collaboration with HR and IT to make any workplace change successful. Without it, people will revert back to their old habits and you won't be able to move forward smoothly.
6. At the end of the day, we're human.
Technology has enabled and influenced changes in the workplace but, until robots take over, we humans are still the ones that have to do the work. The most important factor to consider is that we're designing spaces for people. Staffing is a business' greatest expense, but it's also its greatest asset. As companies drive to create more innovative and productive environments, they must be concerned with employee well-being and engagement. After all, a happy, healthy, empowered, and engaged employee will work harder for you and be more productive than an unhappy, disconnected, sickly, disgruntled one any day of the week.
Despite the tendency for sides to become polarized around workplace extremes, the real solution often lies in the middle, and here, the middle looks a lot like trusting the people we hire, giving them choices, and being flexible. Companies will flourish if, before making changes, they determine what's right for their company culture and organizational DNA. We need to focus on people and on improving their experience to maximize their potential. That's tapping into the real source of improving productivity and profits. After all, we're not just designing the environment anymore: we're designing the entire experience.
Never miss an article like this one! Subscribe to our FREE weekly newsletter to get exclusive Work Design Magazine content in your inbox every Monday morning.