Nike's Serena Williams Building by Skylab Architecture features a sustainable design including a rainwater capture and reuse system, regional and recycled materials, and more.
The Serena Williams Building by Skylab Architecture is the largest structure at Nike World Headquarters at more than 1 million square feet, and built for an on campus workforce of 20,000 with 1,900 of those in this building. Skylab designed all aspects of this programmatically complex building, including core and shell, interiors, FF&E, and brand integration. The project presented three primary design challenges:
To create a design-intensive workspace that fosters connection and collaboration and drives innovation on an enormous scale.
To leverage regenerative principles, in partnership with nature, to optimize the design for the benefit of the site and the building occupants.
To capture the ethos of sport, Nike's heritage, and the spirit of Serena Williams, the ultimate phenom-warrior-muse, and the building's namesake.
Project Overview:
Design Firm: Skylab Architecture
Client: Nike
Completion Date: July 2021
Location: Beaverton, OR, USA
Size: 1,023,000 sq ft
Population: 2,500
Certifications: LEED Platinum
Serena Williams personifies the building's narrative; the armor of the samurai inspired the exterior; the concept of 'flow' informed programmatic connectivity; the abstracted wing of Nike is evident in its tripartite massing. The building consists of four programmatic components: an underground parking garage and loading dock; a merchandising center for prototype retail spaces; integrated design studios for multiple product categories; and a 12-story tower with shared amenities for the whole campus. The tower combines two intertwined volumes, as a nod to the two founders of Nike. The 160-foot-long Design Connector, a rotational steel truss tube, spans between four levels of design and office space.
'Flow' is a design strategy that is fluid, efficient and responsive to both the individual player and the team. It allows for connections among – and between – designers and business operations. Accessory spaces like atria, communicating stairs, modular kitchenettes, and courtyards keep spaces human scale. The building is organized so that designers for each brand occupy a single level, while the corresponding services stack vertically between levels. In a first for Nike, products can move from sketch to prototype to final design to retail fixture all under one roof.
The Serena Williams Building is located adjacent to a beautiful wetland which the campus had turned away from, and had previously contained a parking lot and an access road. Skylab used regenerative design principles to engage the natural world as the catalyst for respectful site design and intelligent construction using responsible systems and materials. The building now establishes new links to the existing campus through restored wetlands, public plazas, and view corridors. To maximize connection to the landscape, the building is oriented toward the wetland. Skylab were especially sensitive to the pedestrian experience—you can walk around the entire site outdoors and remain dry during the rainy season. The negative spaces created by the branching bars are treated with the same care as the interior spaces. Courtyards, gardens, plazas and a sunken tennis court provide outdoor spaces for work, recreation and relaxation.
The building is LEED Platinum Certified, achieving 82 out of 110 total possible points. Each of its distinct bars cascade to the south and feature inhabitable, interlacing green roof terraces that overlook the wetland. These terraces allow for outdoor workspaces and connection to nature even at the upper levels of the building. Other sustainable design features include energy efficient mechanical systems, photovoltaic panels, a rainwater capture and reuse system, regional and recycled materials, radiant sails, and FSC certified wood products. Stormwater is collected and returned to the wetland. Tempered air is pumped down through the core of the building then pushed out through the raised access floor, allowing each desk occupant to adjust their airflow. Natural light floods the workspaces from glazing on two sides, and skylights above the communicating stairs. When building design reaches the scale of urban design, sustainability is non-negotiable.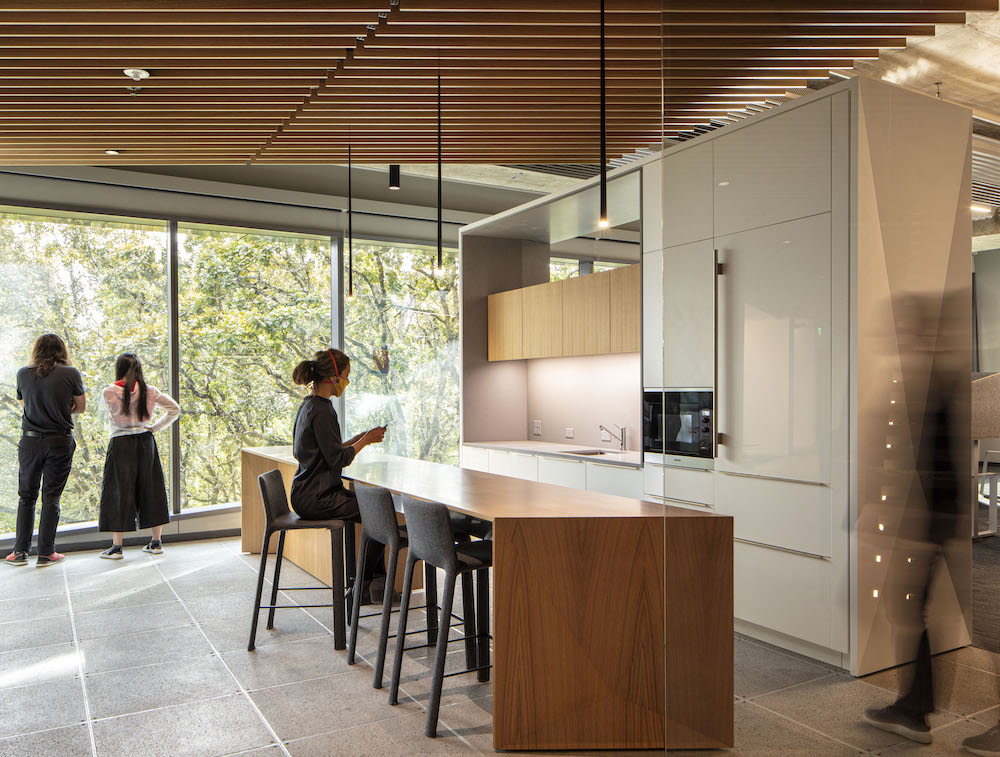 Project Planning
Skylab worked closely with Nike executive and Work Place Design groups to identify significant program and planning goals for the new building. Then-CEO Mark Parker set an organizing principle that all designers for each brand within Nike occupy a single level, a horizontal studio environment allowing creatives to see and discuss each others' work. In a first for Nike, product moves from sketch to prototype to final design to retail fixture all under one roof, achieving a much more holistic product design and production process.
Project Details & Products
The Serena Williams Building provides an experience aligned with the Nike brand, heritage and team culture, while also representing the building's namesake. Brand nods to this world-class athlete exist throughout the space. Food service locations within the building are named for the four Grand Slams: the US Open Café, the French Open Café, Wimbledon Restaurant, and Oz Café.
The Art of Serena
Numerous female artists from across the country and around the world contributed to art within the Serena Williams Building. Artists include Jenny Sabin, Lady Pink, Jordan Moss, Kelly Anna and more.
Pulsation sculptures by installation artist Daniel Canogar (outside): Abstract digital motion graphics are showcased on four LED towers, located in the courtyard outside the building. The graphics capture the dynamic and versatile energy of Serena.
White roses (outside): White roses greet visitors outside as they approach to the building, a subtle, yet beautiful nod to Serena's favorite flower and the traditional bouquet given to Wimbledon winners since 1886.
Shoe Dog Bridge (outside): Shoe Dog Bridge, designed by Place Landscape Architecture, is an homage to Nike co-founder and Chairman Emeritus Phil Knight and is Nike's first covered footbridge of its kind. The design drew from Phil's life experiences in and around Oregon and beyond, taking inspiration from the city of Roseburg and its many covered bridges, the cantilever of the old Hayward Field at The University of Oregon, Japan and the movement and structure of origami and finally, the movement and innovative spirit of Nike The qualities come together in the traditional crossbar structure and stunning modern envelope to create WHQ's newest campus icon.
Serena Memorabilia Cases (Level 1): The cases are filled with iconic memorabilia from Serena's 23 major wins, clustered together by the four Grand Slam tournaments. Every pillar represents a win at that cluster's major, and there is space for more columns to be added.
US Open Café Nook (Level 1): The nook was designed to emulate a NYC luxury apartment filled with family memories and paintings documenting important people and moments in Serena's Sprinkling roses throughout, these images touch on her successful tennis career, but are really meant to highlight the precious, more personal moments of Serena's life. The NIKE imagery, US Open trophies, Serena's logo and more can be found in the custom wallpaper.
NYC Imagery: Throughout the building, there are plenty of nods to New York City, the home of the US Open. From cityscape graphics to a subway-inspired dish return in the café and the "Flushing Meadows" bathroom – a nod to the subway stop for the US Open.
Sundries Installations/The Gazette (Level 1): The neon text "Ride a little, bump a little" is a callback to Serena's Before her sister could legally drive, she mischievously took the family van for a drive and ran into several parked cars. The side mirrors on this installation represent the damage done to those cars.
Oz Café Ceiling Graphic (Level 3): The detailed piece on the ceiling depicts constellations from the night sky as viewed from Melbourne, and features several hidden images of Serena Williams, basketball legend Michael Jordan, and other NIKE imagery.
Gemma O'Brien painting (Level 3): Created by Australian artist Gemma O'Brien while living in Portland, the power of words was a driving force and inspiration for this piece. Serena's and Venus' dad would hang up motivational phrases throughout their home and he encouraged his daughters to write down their goals. As Serena's career progressed, she kept a notebook with inscriptions such as "Your Destiny Has Just Begun." Gemma is a dynamic typographic artist and masterfully weaves stories from Serena's life throughout the painting.
SinewFlex sculpture (Level 4-5): This multi-story sculpture is located in the 4th floor Atrium and designed by Jenny Sabin Studio. Jenny Sabin is an artist, architect and professor at Cornell Her work investigates the intersections of architecture and science while applying insights from biology and mathematics to the design of material structures. Jenny first collaborated with Nike on the myThread Pavilion in 2012.
Rose mosaic in the Wimbledon Restaurant (Level 10): The rose mosaic is significant to both Serena Williams and Wimbledon. Roses are Serena's favorite flower and rose bouquets have been given to Wimbledon winners since 1886. Wimbledon wallpaper can also be found on the restaurant walls — blending Serena, sport and Nike elements in a black and gold foil motif.
Most unique features of the space
The 160-foot-long Design Connector Bridge, a rotational steel truss tube, spans between four levels of design studios and the main entry courtyard.
Natural light floods the work-spaces along each bar from glazing on two sides and skylights above communicating stairs.
Accessory spaces like atria, communicating stairs, modular kitchenettes, and courtyards break down the scale of the building and enable unexpected connections across the building.
The 180' tower is the tallest building in Beaverton, OR. The program includes material and resource libraries, gallery, video conference center and presentation suites, banquet hall and lecture hall, and rooftop restaurant and bar with 320° views to the Coast Range and Mt. Hood.
Overall Project Results 
When the Serena Williams Building project began in 2014, the program and intended occupants were very different from who ended up occupying the space when the building opened in 2021. With changes of leadership and needs, the program needed to evolve each year that the building was being designed.
Site & Landscape
The building is part of Nike's "salmon-safe" campus, meaning stormwater run-off and source pollution have been reduced to protect Pacific Northwest salmon watersheds.
The federally protected wetland running through the Nike campus and along the building is supplemented with thousands of native plant species.
Building Environment
The building provides supplemental fresh air indoors, which has been linked to increased productivity.
Rainwater is captured and stored, then used for the building's toilets.
Materials
The Serena Williams Building has been created using recycled materials – more than 20% of materials are made up of recycled content and harvested and manufactured regionally.
All the adhesives, sealants, paints, coatings, flooring, and composite wood installed in SW are low-emitting to improve indoor air quality and reduce chemical and particulate contaminants.
More than 50% of the wood installed in the building is Forest Stewardship Council (FSC) certified and derived from sustainably managed forests.
Energy Efficiency
The building is anticipated to achieve an energy cost savings of over 41% compared to a baseline building.
The building is outfitted with 648 solar panels.
Project Team
Jeff Kovel, Brent Grubb, Susan Barnes, Robin Wilcox, Nita Posada, Louise Foster, Tony Tranquilli, Marian Jones, Vaughn Reynolds, Kyle Rodrigues, Bailey Robertson, Julia Ahlet, Katherine Park, Nick Trapani, Angelique Nossa, Eddie Peraza Garzon, Monte Van Tassel, Keith Greenwald, Katy Krider, Julia Bannon, Jon DeLeonardo, John Schlachta, Joshua Jewett, Allie Freund, Caleb Couch, Hanna Fransman, Dustin Furseth, Amy DeVall, Bradley Shanks, Stephen Miller, Marian Jones, John Carhart, Kyle Norman, Daniel Meyers, Traci Sym, Paul Waters, David Suttle, Jill Asselineau, Adrienne McClellan, Julia Bannon, Jennifer Martin, Nathan Cox, Jacob Semler, Sonya Nordstrom, Andrew Borell, Reiko Igarashi, Andrew Schilling, Derek deVille, Hanna Fransman, Allison Hefely, Jeni Nguyen
John Hoke, Chief Design Officer, Nike. Inc.
Key Sub-consultants: