The future of Popeyes Louisiana Kitchen depends heavily on staying true to its roots –roots that trace back 40 years to New Orleans.
In November of 2011, Popeyes unveiled its new Global Service Center (headquarters) in Atlanta. Designed to underscore the strategic objectives of the brand, Popeyes wanted a space that reflected and reinforced the company culture and heritage.
Popeyes worked with KPS Group to emphasize Popeyes commitment to these roots. Lead designer John Schneider guided the team. Popeyes CEO Cheryl Bachelder oversaw the team's work, ensuring the space would reflect Popeyes Louisiana heritage while facilitating collaboration and ideation among Popeyes employees.
By creating an open and inviting workspace, employees now have a greater number of opportunities to work together, brainstorm, and create ideas to drive profits. Profits can more strongly be achieved through product innovations, improving the guest experience, and becoming more aligned with franchisees.
"This state-of-the-art workspace creates an environment that inspires creativity while connecting employees with Popeyes' rich, Louisiana heritage, with a nod to a bright future," Bachelder said.
Popeyes Tasting Room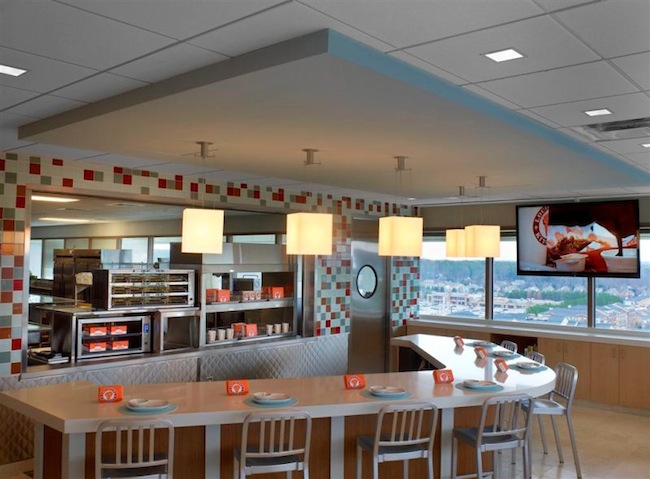 Not only is the kitchen at the heart of Popeyes restaurants, it is at the heart of its global service center.
Popeyes created a large, 2,000 square foot test kitchen that enables members of the Popeyes culinary, operations, and supply chain teams to work together, thereby allowing cross-functional collaboration.
Popeyes Reception Area
Employees and guests are greeted by warm colors that reference Popeyes spice profile and circles that subtly mirror Popeyes logo.
All these design elements are beautifully accented by meticulous woodwork, creating an inviting environment. Attention to detail throughout the headquarters exudes quality and further drives home Popeyes culture of teamwork and unity.
Popeyes Core Principles
Popeyes core principles are incorporated into the design of its headquarters as shown in this prominent display.
Popeyes Marketing Innovation Lab
Windows line the collaborative areas allowing natural light to illuminate the space, creating spaces that facilitate brainstorming and ideation.
Other features in the conference areas include mobile chairs and tables, which make the space easily customizable to any meeting setting, and whiteboards for table tops. They also include smart boards to record ideas and visualize concepts.
Popeyes Break Room
Common areas feature New Orleans-themed prints, which serves as a constant reminder of Popeyes rich Louisiana heritage.