The idea of Smart Working at Credit Suisse was born in the spring of 2010. We had realized there was an opportunity to optimize our real-estate footprint while providing employees with a work environment that better fit their different needs.
As a first step, 8,500 employees across several divisions and the globe responded to an in-depth survey about their work styles and current workplace performance.
Three common themes emerged — and later were validated through focus groups – in that employees said their office did not support:
Concentration
Collaboration with peers
Having confidential discussions
Armed with this research, the Smart Working team presented a plan to the Executive Board that translated employee needs into an optimized office environment shared by staff at all levels.
We proposed exchanging dedicated offices and desks for flexible working zones to directly address employee feedback:
Quiet areas for concentrating
Project zones, work/meets, and lounges for collaborating
Phone booths and private offices for confidential discussions
We received initial approval to build three pilots – approximately 200 staff each in Zurich, London, and Singapore – which were so successful that we now have three large-scale rollouts live or in-flight, and we are evaluating several other opportunities. We most recently implemented Smart Working in an entire building of 2,500 staff in Zurich.
The question we're asked most frequently is: How did you achieve such positive employee engagement while moving away from dedicated desks and offices into a shared workplace?
The answer is commitment to involving employees from the very beginning of the design and change process, when a new project is launched.
My colleague, Phil Kirschner — the Americas Regional Lead for the Smart Working program who also oversees matters pertaining to research and technology — recently gave a presentation on our program at the WORKTECH conference in New York City.
"It's a very collaborative effort with a cross-functional project team – IT, corporate real estate and services, and HR – focusing on the staff moving into the new environment. We conduct several rounds of research to understand how to best adapt each implementation to the specific needs of the teams moving into it," he said. "We use surveys, focus groups, senior management interviews, and time utilization studies in which we track what type of work activities are conducted in their existing work settings."
The audience comprised architects, designers, and those vested in workplace design.
"Understanding these unique needs sets a firm foundation for the change management activities that will follow, and for delivering what will be viewed as an excellent new work environment by those employees."
He explained that our post-occupancy studies demonstrate that we can accommodate nearly 40 percent more staff into our new environments. But, more importantly, he noted that employees are more engaged — they believe Credit Suisse is now a better place to work.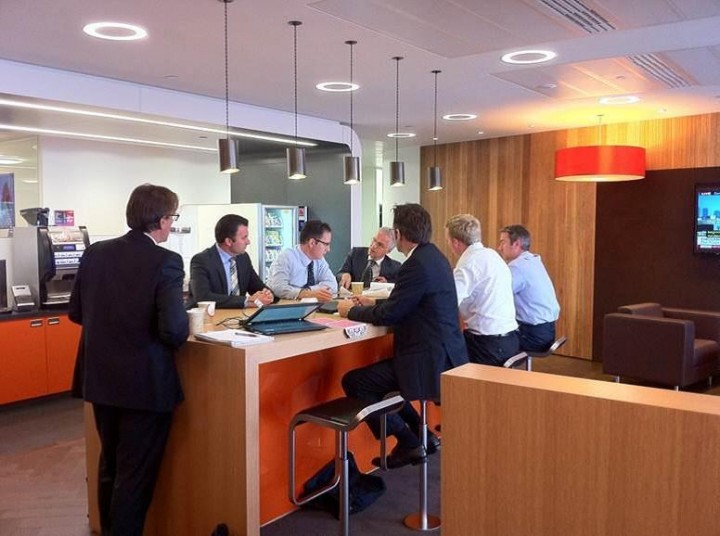 "More than 90 percent of the involved staff say they are as productive or more so," he said. "And 75 percent are highly satisfied with the environment, 80 percent would not return to the old layout given a chance, and pride in the workplace has more than doubled."
The key component many companies miss when deploying flexible work environments is comprehensive change management.
That's why we immediately focus on building up a local community of change agents from the participating departments when a new project is announced. Those change agents are the critical link between the program and the business, and they own the change agenda for their colleagues.
Alongside the project team, they get employees involved in the entire process many months ahead of the actual move. They create the principles of collaboration (i.e. behavioral guidelines for the new environment), provide input to the architects and designers, and present key updates in their departmental meetings.
Support from senior managers is also a critical component of ensuring the group's satisfaction. We've had the opportunity to work with supportive, global managers who, despite some initial concerns, actively serve as role models by using the wide range of work settings and encouraging their staff to do the same.
Managers share their knowledge in cross-regional video conferences, so those in a traditional environment can hear advice from their peers who have already adapted to Smart Working.
If you navigate the change process correctly, your employees should be walking advertisements for your program, even those that have left their corner office behind.
Our Executive Board sponsors have been key to the success of the Smart Working program at Credit Suisse. In a tough economic climate globally, their metrics for success don't lie in real estate efficiency alone. Emphasis is placed on the employee's experiences through the transition, and their engagement once they're working in their new space.
Our sponsors set the stage for senior management buy-in and leadership in Smart Working, guiding our employees to develop new working habits to further help our clients thrive.
Smart Working at Credit Suisse – http://t.co/4ewq8Tia

— Work Design Magazine (@workdesignmag) September 11, 2012