Peter Busby and Hakee Chang, of Perkins+Will's San Francisco office, explore four ways to design an innovative work environment.
Work environments are important. We spend most of our waking hours at work, and how our office spaces are designed can have a substantial impact on our health, happiness, and work product. For example, a study by Northwestern University shows that offices designed with more natural light positively affects employees. They sleep longer and better, have more physical activity and a better quality of life compared to office workers with less light exposure in the workplace.
But it's not just about worker happiness or health. Office spaces can also influence an employee's creativity and innovation, which are critical for a company's overall success. The best ideas don't come from an employee answering email in a cubicle. They come from a space in which employees have room to explore, collaborate, and connect.
Companies of all stripes increasingly recognize this. It's one thing to know you need an innovative workspace — it's another to actually create one. There are many ways to design for innovation, below we walk you through four tested strategies you can implement to design an innovative workspace.
Know that biophilia matters
In the last decade, more buildings have incorporated sustainable design principles, and studies have shown there are direct behavioral effects from green building design. A study completed in 2013 at the University of British Columbia identified a connection between occupying a high-performance building and pro-environmental behavior related to recycling and waste disposal. The study showed that users of a deep green building were more likely to choose the correct disposal bin (recycle, compost, or trash) than users of a similar building that did not focus on sustainable design principles. Sustainable climate-specific solutions should inform your decisions if you want occupant behaviors to reflect sustainable attitudes.
For example, when deciding shading strategies for your office, material selection and aesthetic choices can creatively reflect the appropriate historical, cultural, and ecological influences in the region. Incorporating natural light into your space, such as with Suncentral Sunbeamers and skylights, will provide indirect daylight that positively affects occupants. Other strategies include having operable windows for natural airflow, incorporating outside views into your space, and using natural eco-friendly materials. Perkins+Will has implemented this strategy in many of our offices, most recently in the San Francisco office. In a new build project in Vancouver, we built exterior shading structures, operable windows for natural ventilation and a completely green roof. Recently, a 25-foot high "living wall" was installed in our Vancouver office to clean and refresh the air, reminding us of the importance of biophilia in design.
Experiment with materials to make your space more creative
It's worth investing time and resources in experimentation with unique materials. There is a plethora of material available for use in innovative ways to create doors, walls, lights, furniture, and more. By reaching out to local junk yards, furniture vendors, or other local resources, you can cheaply purchase and re-purpose materials to create one-of-a-kind piece that provoke creativity in your office.
In 2000, the floor at our Vancouver office was made with recycled rubber from tires. Everything in the office (except chairs and lights) was designed in-house. In our recently completed San Francisco office, we used locally sourced tile composed of cast recycled cathode ray tubes instead of ceramic tiles.
Incorporate "active design" for wellness and productivity
Employees are known to be more creative when they have physical activity throughout the day. Of course, gyms and standing desks are a great place to start but, beyond that, consider designing your space in a way that encourages or even requires activity. Make stairs accessible and attractive so they become more common than the elevator. Move trash cans, snacks, and bathrooms farther away from the central desk area. And don't forget about commuting. By incorporating showers, changing rooms, and secure bike storage on-site, our San Francisco office encourages employees to take alternate means of transportation to get to work.
Integrate flexibility to support mobility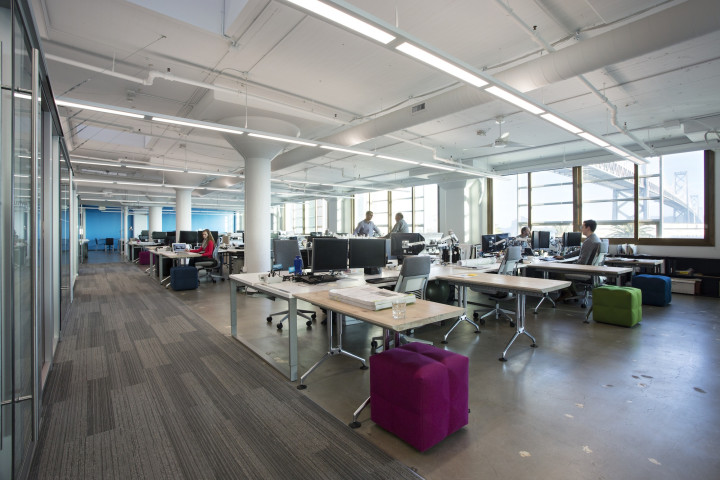 Today's most innovative workspaces embrace mobility. Laptops, smartphones, and reliable WiFi connections mean that workers can say goodbye to the desk. Anything can become a workspace: a beanbag, a cafe table, even a floor. Office designers and companies need to adopt a flexible attitude when it comes to workplace design.
By incorporating open spaces with non-permanent walls or desks, companies can allow the office to evolve with technology over time. Designing different types of workspaces, such as sitting desk areas, standing desks, and open lounge areas throughout the office will promote productivity and inspiration. In our San Francisco office, flexible project rooms were designed for ever-changing team structures and fully demountable sustainable moveable walls are used for partitions. The result is an office that can be reconfigured to meet the changing needs of the team or technology at a moment's notice.
Designing for innovation might not happen overnight for your office. Office design should be flexible and based on the users in the space, so there is no one way to design for innovation. However, with support from upper management and a fully committed team, you can begin to incorporate these principles, among others, into the design of your office.