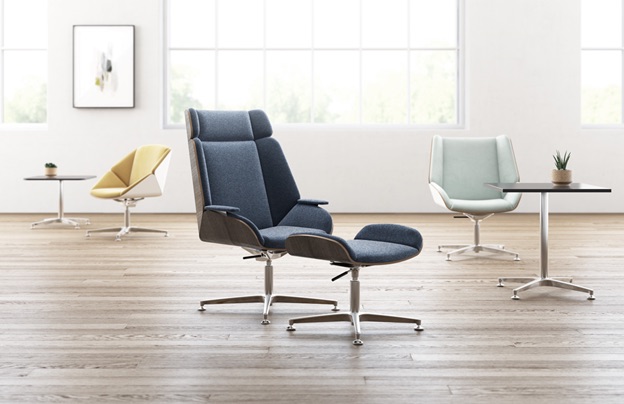 One of the multiple 2017 product introductions by Kimball Office's included the Theo seating line. Debuting at NYCxDESIGN in May the line achieved a #MetropolisLikes Award. Awarded bi-annually by Metropolis magazine. Theo was also one of Kimball's new products featured at June's Neocon event in Chicago.
Who designed this product?
The Theo product line was designed by Jay Henriott of Kimball Office.
What was the inspiration behind the design?
The design gives the nod to the mid-century classics that utilized molded wood frames with upholstered interior seating area.
How about some of the main design features?
We wanted to create a product line that was scaled to work in multiple environments. We think we have provided a large-scale look with a smaller footprint. With multiple seats, back and base options, designers have a range of choices that will work in spaces from reception to casual meeting areas.
Are there a lot of options?
Yes, we thought about all the ways the Theo could work in the office environment. Based on function, the chair can be specified to meet almost any seating requirement.
What do you think our readers will love about the product?
Theo's craftsmanship and versatility. Design details include:
How will the product impact the workplace and contribute to new ways of working?
Theo can be specified to fit almost any situation notes Heather Nemoir, IIDA, Partner and General Manager of Metro-Milwaukee Based Corporate Design Interiors.
"There is a growing trend among savvy employers looking to win the work-from-home battle, by making the workplace more like home. As evidenced by the increasingly subtle divide between office and home furnishings, clients want a workplace that can compete for an employee's attention by speaking to their desire for comfort, needed flexibility, and unique experiences."
"The understated brilliance of Kimball's Theo chair is that it isn't trying to be something it is not–it radiates authenticity.  Theo embraces whatever setting it is placed; comfortable at work or rest, alone or within a group, upright and fully-engaged or tilted with the paired ottoman for deep-thinking.  Theo's handsome lines are welcoming, it's clean and sturdy aluminum base is polished but not pushy, and its rich veneer wraps the chair seemingly delivering an invitation to, 'please sit, make yourself at home."
When will Theo be available?
Theo "seating" is available for order entry now. "Tables" will be available in the fall. More information can be found here.