New NYC office offers flexible layouts with an array of fully furnished and tech-equipped private offices in a shared environment
Emerge212, New York City's premier operator of full-service office suites, unveiled its newest location in late 2017: 1185 Avenue of the Americas near Rockefeller Center. Inspired by the best in hospitality, design, and technology, Emerge212 works to provide its clients with an elevated experience, with a sleek and sophisticated aesthetic, unsurpassed technology and infrastructure and prominent New York City addresses for both occupying and virtual clients. Businesses have access to their own, privately leased space which can grow and contract based on the needs of their business, while consistently having access to the resources and amenities afforded by large organizations.
Recently, celebrity stylist, interior designer and TV personality, Robert Verdi discovered the office provider and designed a private office for himself within the space. True to Robert's style, the office is awash in vibrant pops of color, and is designed to make his clients feel right at home. The finished space features paint from Benjamin Moore, a desk from Restoration Hardware, a sofa from B&B Italia, lamps and accessories from West Elm, and more.
When was the project completed? 
Emerge212 1185 Avenue of the Americas opening – late 2017; Robert Verdi private office design – 2018
How much space? 
56,000 square feet, occupying the 2nd and 3rd floors
Was this new or renovated space?
Renovated space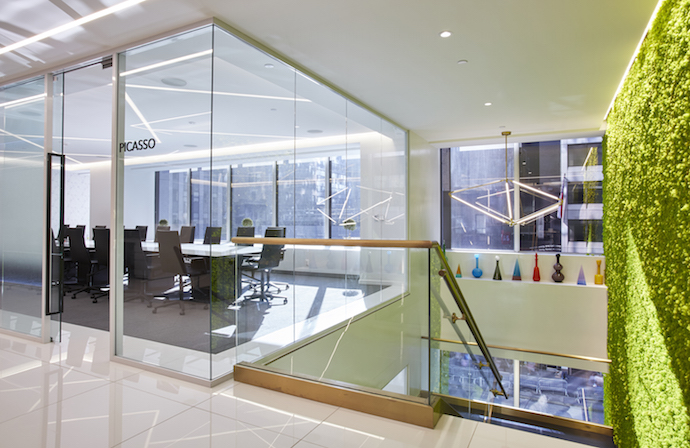 SF per person?   
It varies based on which spaces a company chooses to lease from us but what's best is they have the ability to lease as much or little space as they grow and operate in the space and build their respective businesses. And if the need for more space arises for larger projects then they simply add on daily/monthly or full-time space.
How many employees?
It varies as companies move in and out or expand and grow in the space once they sign a lease.
What is average daily population? 
Approximately 250 people, but it varies.
Describe work-space types.
Private offices, Team Rooms, Cubicles, Day offices for mobile clients that touch down occasionally, meeting room spaces, etc. — all with shared amenities.
What kind of meeting spaces are provided? 
The office features six conference rooms of varying sizes, each named after and subtly inspired by a different artist i.e. a cubism-inspired rug for the Picasso.
What other kind of support space or amenity spaces are provided? 
Further office amenities include bistros on each floor, event space, a serenity lounge with noise-cancelling Bluetooth Beatnik Sound Station Chairs, a bike room with storage racks for commuters and a server room with rack space and private servers available to support company IT.
What is the project's location and proximity to public transportation and/or other amenities? 
A central location for commuters, 1185 Avenue of the Americas is within walking distance to Bryant Park, Times Square, Grand Central, Penn Station and the Port Authority Bus Terminal. The building also has direct access via the main lobby to 15 subways, numerous buses and trains and is directly connected to Rockefeller Center's underground concourse.
Was the C-suite involved in the project planning and design process? If so, how?
Emerge212 Director James Kleeman oversaw the design and execution of the office, leading the design conception and implementation and directing the LB Architect team.
What kind of programming or visioning activities were used?
Aggregating the aspirational elements of various hotels, incorporating the visual and practical comforts of the hospitality industry in an office environment.
Were any pre-planning surveys conducted to get employee input?
Taking feedback from clients of other Emerge212 locations as to what they loved the most about the space and compiling a "wish list" of elements that they'd enjoy having.
Were there any special or unusual construction materials or techniques employed in the project?
Office amenities include a working fireplace – the only fireplace approved for commercial use within Manhattan.
What kind of branding elements were incorporated into the design?
All Emerge212 locations feature common branding elements, including our signature scent (white fig & thyme) and boiled aluminum wall, white porcelain floors, common cafés designed for relaxing breaks or productive break away space, interactive conference rooms, a bicycle room, a server room with rentable rack space "cubbies" and countless hotel style design elements such as LED lighted door portals that step off the hall with a different material floor at the doorway, large "room numbers" and a keyless entry system to all the suites. All locations feature a range of hospitality elements that make someone feel elevated about being at work versus a standard office environment.
What is the most unique feature of the new space? 
The 1185 Avenue of Americas office features a two-story floor-to-ceiling neon green moss wall.
What kind of technology products were used?
2 GB of Fiber Bandwidth
BGP Router that selects the best path to get from your device to the internet EVERY time
"Co-Location" style server room, with 24/7 access to private or shared cubbys
Smart-WiFi that puts your device on the best Access Point available
Experienced Local and Remote Support
If the company relocated to new space, what was the most difficult aspect?
Some of our clients were relocated from an older location that we closed when opening this space. Moving can be quite stressful but we ensured all their technology was in place and live with their phones actually ringing in both locations before they moved over to 1185. The move was from a Class B Building to a Class A building and high design built-out subway access directly in the lobby so it was an overall improvement.
How did the company communicate about the changes and moves?
First via an email and then provided an on-site coordinator to handle the assessment of each company's needs before having a professional moving expert meet with each company one on one to prep for the move.
Tell us more! 
Emerge212 has been in business since 1999 and through its leadership from management, continues to evolve with time and the ever-changing needs of the clients that chose to lease space from us. These clients rely on Emerge212 to operate a functional, inspiring and impressive office environment so they can laser focus on operating their business, not the operations of an office space. We take pride in keeping our finger on the pulse of what entrepreneurs and business professionals value in order to thrive in their respective business and we aim to deliver just that.
Images courtesy of Emerge212