Today's broadcast projects work to develop deeper meaning and storytelling potential, and a modern workplace can do the same thing.
In today's digital landscape, every business is a producer of media, whether it's content for social media channels or internal video for corporate communications. How a company interprets and communicates media will ultimately help determine the efficacy of their brand.
Businesses no longer have the luxury of embracing traditional channels of communication. Gone are the days of a brand reaching consumers solely through print advertisements, billboards, or word of mouth.
In 2018, brands are beginning to see potential in an integrated multi-channel approach, borrowed in many cases from longstanding traditions found in the broadcast industry.
These messaging techniques have far-reaching effects, with notable trends increasingly seen throughout workplace design.
High-performing zoned spaces are better than open plans
Open floor plans may seem appealing and hip to millennials, but they decrease productivity and lead to a loss of environmental satisfaction among employees.
A recent study by Harvard researchers Ethan Bernstein and Stephen Turban finds that open-plan offices actually causes a decrease in office interaction among co-workers.
"Rather than prompting increasingly vibrant face-to-face collaboration, open architecture appeared to trigger a natural human response to socially withdraw from officemates and interact instead over email and IM," the researchers note in the journal Philosophical Transactions of the Royal Society B.
Open plans may seem preferable for their democratic use of space, but introducing a hierarchy of public, private, and interstitial spaces – each holding specific relationships to each other in lieu of organizational chaos – allows work and collaboration to be more focused and yields programmatic efficiencies in the long run.
This "zoning" concept is a fundamental tenet of broadcast design, helping to elevate the space by giving a specific purpose to each piece of a studio environment. These individualized spaces adopt strategies commonly found in broadcast to help delineate zones.
For example, in the Bumble headquarters by Mark Odom Studio, unique lighting strategies and material cues (such as the use of repeating patterns and the consideration of acoustics) are employed to help create distinct spaces for collaboration and focused work.
Bumble also plays with variations in scale to create a larger-than-life beehive aesthetic that gets a little funky while remaining inviting for workers and visitors.
The thoroughly branded workplace as the product itself
Due to the nature of broadcast media, studio environments have always, by sheer necessity, been thoroughly branded spaces, integrating logos and show titles along with distinct color palettes and graphics.
Likewise, interior design has always been a component of corporate branding. However, with the rise of competitive co-working spaces, we are seeing companies differentiate themselves by branding their spaces in new and unconventional ways that extend beyond the traditional "interior design" banner.
Signage, amenities, and finishes are no longer just boxes to check off; they are opportunities to differentiate your brand from a competitor.
The goal of modern interior design is now to create a space where people want to work that is instantly recognizable as your brand's facility, just as it has always been in the world of broadcast.
WeWork, the popular co-working space and one of the largest office tenants in Manhattan, prioritizes interior strategy with each new build out.
Mixing a lofted industrial aesthetic with vegetation, copious natural light and rich color and material palettes, users are sure to know they're in a WeWork. These finishes and environmental graphics are mixed with modern furniture choices and technology-driven amenities to create spaces workers want to call home.
Interactive media in places you might not expect
Who wants to schedule a conference room a week in advance to use the only presentation monitor in the office?
Today's workspaces bring the media to you, allowing collaboration to happen spontaneously without losing access to the tools that help data-driven companies access that data.
Flexible, media-rich environments have long been a staple of the broadcast industry, helping tell stories from breaking news events to election results each November. Companies outside that industry are now discovering the potential of these environments.
Express Scripts, which is in a pending merger with Cigna, prioritized this idea of inter-office collaboration using new technology in its headquarters redesign.
Express Scripts redeveloped its office, now known as the "Lab 2.0," to promote teamwork and facilitate collaboration through the use of mobile components and interactive technology, allowing the office to quickly adapt to solve the challenges facing the healthcare industry.
Making data tangible and accessible is the priority of spaces like these, with a focus on catalyzing communication between disparate groups.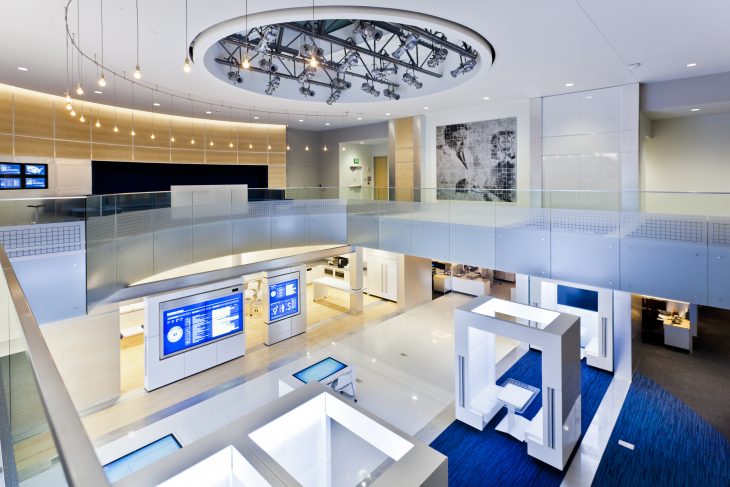 Maximizing efficiency by going minimal
All companies face space planning challenges, especially during times of aggressive scaling, resource scarcity, or geographic demands.
Broadcast media networks also must grapple with an unpredictable media landscape, which often means they must do more with less.
The rise of mobile platforms, cloud networks, and streaming video services has enabled a surge in telecommuting, effectively paring down the workplace to its lowest common denominator: you, your computer, and your phone.
This mirrors a broadcast trend: virtual studios.
Today, production value doesn't need to be compromised by constraints that would otherwise hamper a network. Networks can do more with a simple chroma key screen and single camera setup than ever before, enabling these companies to be nimble, efficient, and adaptive without undermining their brand.
Similarly, in the corporate world, telepresence solutions continue to rise in popularity. From simple options that allow you to share screens and video chat to full suites of monitors that allow you to meet "face-to-face," the past constraints of offices continue to fall away, allowing collaboration from around the globe.
Making the workplace itself a broadcast environment
Brands are increasingly looking to production facilities that blur the boundaries between workplace and stage, combining carefully crafted lighting, branded graphics and technology to fulfill both demands.
With the integration of dedicated broadcast environments into a functioning workplace, companies can produce high-quality thought leadership content that properly captures a brand's voice and essence, while not feeling like a "traditional broadcast studio."
TMZ, the entertainment news website, long ago embraced this idea, turning its entire newsroom into a camera-ready space with on-brand graphics and proper lighting allowing the filming of a daily television show and various clips for social media distribution.
This trend is actually the inverse of a trend that started in broadcast in the early 2000s, in which editorial staff were moved into the studio to be a part of the live broadcast.
"Shepard Smith Reporting," which was designed by Clickspring Design, took this integrated workplace approach a step further by making the activity of news editors curating content a part of the broadcast experience.
Wealth management companies are increasingly borrowing this production technique to showcase their competency, even using specialists as "on-air talent," mirroring the broadcast host/guest relationship.
Additionally, these companies make use of smaller, flash cam studio facilities to enable on-brand, high-production conference calling. Similar to a small booth dedicated to two way conferencing, these studios combine the aesthetic and functional merits of a traditional broadcast studio to communicate brand stability and expertise.
Broadcast and the office: not so different
Workplace design is no longer just about picking the right furniture and finishes. It now employs complex strategies to help create a space that embraces the company's brand, values and mission while creating a conducive work environment.
Broadcast went through this same transition decades ago, realizing it was about more than just a simple background for on-air talent.
Today's broadcast projects work to develop deeper meaning and storytelling potential, and a modern workplace can do the same thing.
Through the use of zoned floorpans, branding, interactive media and proper lighting, today's offices can also become storytelling spaces that go beyond traditional interior design to help motivate the workforce and project a company's position to the world at large.