Novus Monitor Arms were designed to enhance your workday experience by supporting a variety of screens in any configuration.
Novus monitor arms offer functional and stylish solutions for a variety of environments. Whether you are looking to optimize efficiency or create a more collaborative space, Novus will enhance your workday experience.
The focus on ergonomics and flexibility has put a spotlight on tools that help us stay productive and comfortable whether working from home or in the office.
Key features include:
Designed for Comfort
Wherever work takes place, comfort is key to a productive day. Novus monitor arms optimize ergonomics for all workspaces with easy, precise adjustments to dial in a perfect ergonomic fit.
Easy to Customize 
Novus monitor arms and components are modular. This mix and match capability allows you to integrate arms with Novus lighting and accessories to create the perfect workstation. As needs change, simply add or reposition components to create a new workflow.
Durability and Style
Constructed of aluminum with metal base mounts, Novus monitor arms stand up beautifully to the daily wear and tear of busy offices. The sleek design and smooth finish add a touch of style to any workspace.
German Engineered 
German engineering is renowned for quality and its focus on function and style. Novus products are designed and manufactured to the highest standards for smooth operation and long-lasting performance.
WDM: Why should people make sure they fit out their workspace either at home or in the office with a well-designed monitor arm?
Whether work is performed at home, in the office, or both, today's workspace designs need products that can adapt to changing workflows and provide ergonomic comfort.
Novus monitor arms and components offer everything you need to customize a comfortable, cohesive space for all team members regardless of location or vocation.
WDM: In the agile, activity-based workspace how do the Novus monitor arms have an effect?
Novus Monitor Arms work how you work. They are ideal for supporting screen configurations for intense work, communication, collaboration, or simply viewing information.
WDM: How will this product help our readers design and implement great workplace solutions?
Modular components make it easy to customize our monitor arms and accessories which leaves room for future expansion.
A recent collaboration with console maker Sustema required a monitor arm solution that was "future-proofed" to support the current and future needs of a busy municipal emergency call center. We customized our TSS columns and arms for easy screen placement, updates, and reconfigurations.
Photos Courtesy of Sustema – Read the Case Study
WDM: What was the inspiration for the design of the monitor arms?
Our mission at Novus is to make work easier. Enhancing comfort and maximizing space are the primary goals for our monitor arms. We want the user to be able to elevate and adjust their screens to a perfect viewing position while creating more desk space. These two factors promote a more enjoyable, productive work experience.
WDM: Where do you think the installation of this product will be most effective?
In this new hybrid work world, communication is key to keeping teams engaged and work moving forward. Screens are critical access points for sharing information and staying connected.
Novus monitor arms are designed to support a variety of screens in any configuration. Whether it is a single desk with dual monitors, a collaboration space with multiple screens, or a control room with a video wall, Novus has a solution that fits.
WDM: A year from now, what would be the most exciting thing to learn about how the product has been accepted, specified, and installed in projects? 
We would be thrilled to see our products help people maintain strong teams, create smoother workflows, and have a positive impact on building a more comfortable work world.
WDM: Are the Novus monitor arms available now?
Yes, most models are immediately available. Our website has information and tools that make product selection easy.
WDM: What will our readers love about your products?
You need a monitor arm that does its job well so you can focus on the work at hand. Novus Monitor Arms offer no-fuss, reliable support for the screens that provide critical access points for information, communication, and productivity.
WDM: What is the cost of this product?
The MSRP for each product is shown on our website, sample listing shown here. Please contact us directly for project quotations.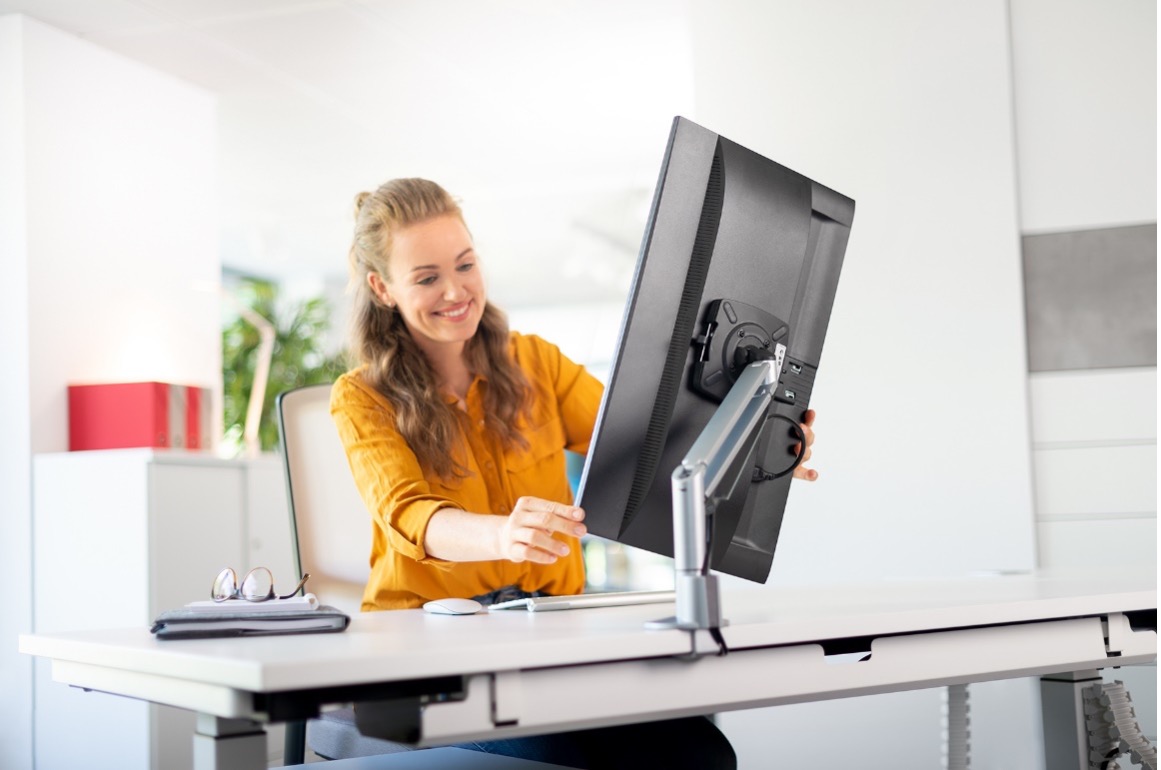 WDM: Are there any other unique features that would interest our readers?
Novus CLU Monitor Arms glide, tilt and turn for the perfect viewing position. They are a popular choice for offices thanks to smooth gas spring adjustments and full monitor rotation. Designed to fold behind the monitor, they provide a clean, organized look.
Novus TSS Telescope Monitor Arms are designed for multi-monitor configurations. Lightweight yet super-strong, their sliding arm design is ideal for back-to-back placement or against a wall to maximize monitor density in less space.
WDM: Where can our readers see your products?
We will be at NeoCon 2022 at Booth 7-3097.
Follow with Novus on social media here.