The Telework Enhancement Act of 2010 requires federal agencies to plan and implement teleworking policies and procedures. The intent is not just to promote alternative schedules for employees as some believe. It is intended to create a federal work environment in which current employees may enhance their productivity and agencies may attract the most qualified employees, while protecting the security of information accessed.
Indeed, concerns about security once held back the expansion of teleworking, but not any longer. In 2006, there were approximately 12.4 million teleworkers in the United States. By 2008, that number had grown by nearly 40 percent to 17.2 million. (Working from Anywhere)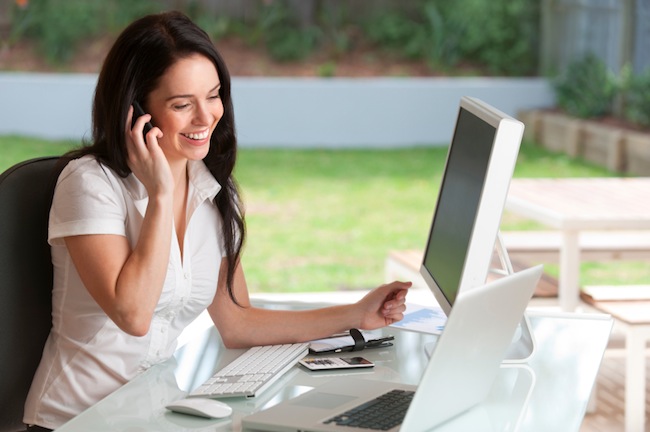 So what makes teleworking work?
The three primary inputs that impact the success or failure of teleworking are:
Technology
Human Resources
Organizational Support
In the following sections, there is a review of the essentials of teleworking that provide a foundation for implementing this productive model in your organization.
Technology
Teleworking is not possible without the right "know how" tools in place within the organization. Almost all businesses store records in databases which means they have the rudimentary equipment at the minimum. But giving remote access to records requires:
Defining additional organizational technology needs
Developing guidelines that clearly delineate what technology and gear the employer provides versus what the employee must have ready
Establishing a support system for ongoing access, maintenance, database management and problem resolution
Launching security policies and procedures that protect organizational data and can limit the possibility of data manipulation or loss
Upholding policies and procedures on a required level of equipment standardization
Employees who are allowed to participate in teleworking arrangements must:
Know what tools and equipment the organization will provide
Be given the appropriate training on equipment use
Comprehend personal responsibilities connected with use of the equipment
Recognize that equipment is for business use only
Know how to secure equipment and information
Understand how to handle emergency communications
The technology component of teleworking is broad in that it includes equipment, communication systems, equipment installation and operation, employee training and monitoring, and security aspects. The foundation must be laid before the first teleworkers are chosen. Once it is known who will be a teleworker, you can then expand on the foundation to include the equipment and procedures for specific employees.
Human Resources
Teleworking works if you choose the employees best able to labor on their own, if you develop policies and procedures clearly establishing communication expectations, and if you uphold performance standards. This mission forms the component that builds on the technological foundation that should already be in place.
A doable telework program relies on remotely working employees being self-motivated because there is not a supervisor looking over shoulders. No direct supervision is one of the motivators for teleworkers who enjoy working in an environment with fewer interruptions and less hands-on management.
For teleworking to be successful, the employee assumes a new role and a new level of accountability. Employees must be willing to:
Adhere to a Telework Agreement
Coordinate closely with the telework director using the very technology that makes remote work possible
Be available during designated hours
Identify with the organizational and job-related policies and procedures
Comply with established standards
Complete all training and prove an understanding of the information
Learn and adhere to all security policies
Make a sincere effort to create a remote environment conducive to getting the job done, i.e. dedicated office space, dependent care, computer equipment and access
Adjust the week's schedule as necessary, which includes reporting to the main office
Plan ahead for work portability, i.e. necessary hard copy documents or equipment to be carried out of the customary location to the remote site
The teleworker is assuming a higher level of dependability than in-house staff in many ways. The government site, Virginia.gov Telework!Va, Â  is dedicated to helping Virginia businesses use telework to their advantage and lists a number of specific companies that feature triumphant stories, including the National Head Start Association and MHz Networks.
The site also discusses the truths vs. myths. The truth is that teleworking is a good work form for about 20% of all employees; it relies on case load expectations being completed on schedule; many employees telework only one to three days a week; and employees must communicate with the main office regularly.
One of the key components of a "win-win" teleworking arrangement is communication:
Teleworker must communicate regularly with managers
Workplace must have a method whereby the teleworker can get necessary information when required
Non-teleworkers must clearly understand their responsibilities as home office workers and to the teleworkers
Teleworkers and workplace employees should be cross-trained
Teleworkers, in some cases, have more responsibility than conventional employees because they are responsible for equipment, remote security, initializing communication with managers, and holding fast to schedules and deadlines without direct supervision.
In addition, a United States Bureau of Labor study found that "…those who bring work home have higher average weekly hours than those who work exclusively in a workplace." The study took into consideration employees who function partially in the workplace and then carried work home with them.
The evidence is that people working at home are more willing to engage in longer hours and do more work while balancing time at both the office and the remote location.
Organizational Support
For teleworking to thrive, it is incumbent on the organization to develop the policies and procedures and then develop a telework agreement between the employer and the teleworker.
The teleworker must be willing to actually sign an agreement that outlines the elements of the relationship. It's almost like a negotiated contract in that both sides will have preferences and input. The employer will focus on accomplishing the objective, both accurately and in a timely manner while protecting the security of the data or information. The employee will want to negotiate the telework schedule and the location.
The telework agreement needs to cover all aspects of the telework position so there are no misunderstandings:
Location where the remote work will be completed
Specific work to be done
Who supplies what equipment and an inventory listing
Work schedule (at the remote location and at the workplace)
Security requirements
Safety standards to be met at the remote location
Conditions under which the employee will be expected to telework outside the regular schedule; i.e. during a weather emergency
The organization and its managers have the ultimate responsibility for making teleworking manageable, including:
Develop a detailed telework policy and procedures manual covering organizational policies and procedures; information systems access; equipment and data security
Monitor compliance with the Telework Agreement
Choose the employees most likely to competently telework
Train employees in policies and procedures, technology use and security
Convey communication requirements employee must adhere to when teleworking
Assign specific tasks and relevant remote data and information access
Establish emergency procedures for continuity of operations
As communication plays a central role in the viability of a teleworking program, without effective communication, teleworking can lead to a lot of frustration and miscues. For instance, it is annoying when the manager is unable to contact an employee and equally annoying when the employee can't contact the manager.
Another vital aspect to reflect on is not to assume anything. That is one of the mistakes managers make when establishing a teleworking program. Victory will lie in the details already discussed.
Teleworking in Action
A company that's a prime example of how the teleworking concept is applied is the Green Building Research Institute (GBRI) in San Antonio, Texas. A sustainability and education-provider, GBRI is a veteran-owned small business catering to the growing needs of environmental safety and energy efficiency, which makes the world a better, cleaner place to live.
GBRI offers its employees the needed flexibility of two telecommute days a week in order to meet child care and other needs.
Director of Sustainability, Jeslin Varghese, said:
"The confidence we have instilled in our employees creates a willingness on their part to abide by the honor system of trust in performing office duties outside of a traditional workstation. The program, which we have implemented now for one year, has worked very well. It provides a balance for a quality life, which draws upon human understanding within the work environment."