Convene CEO Ryan Simonetti created a more human-centric office environment with hospitality at its core.
Bob Fox: Tell us a little about Convene.
Ryan Simonetti: Convene is the fastest-growing network of full-service, tech-enabled meeting, event, and flexible workspaces. Convene is currently partnering with the world's most prominent property owners to address the increased demand from enterprise companies for highly amenitized, flexible-term meeting and workspace solutions.
Chris Kelly and I started Convene in 2009. Early on, we were focused on building and growing a network of premium meeting and conference spaces to meet the needs of enterprise companies looking to outsource their corporate meeting and event needs, while still giving guests an elevated hospitality experience.
Prior to co-founding Convene, I was working in real estate investing, and was primarily focused on office buildings and hotels. I thought, "What would happen if you ran an office building more like a hotel? What if you cared about design and its impact on human experience? What if you thought differently about what hospitality means as a compliment to physical space and great design and leveraged human-to-human delivery of a service model to create true sense of place?" That's how Convene was born.
Since 2009, we've grown our footprint to 19 properties in five cities, and expanded our service offerings to include office amenities, hospitality services, technology, and this year, flexible workspace solutions. Convene recently raised $152M in Series D funding, and with this new funding, we're planning to grow our physical footprint in new and existing cities, expand our service offerings, and officially launch our workplace technology platform, Elevate.
We see an opportunity with Convene to reimagine the human experience in an office building by integrating flexible space, hospitality services, and seamless technology in a synergistic way, with the end goal of creating a true sense of place for end users. In early 2018, we opened Convene's new flagship HQ office at 101 Greenwich Street in Lower Manhattan, which creates that differentiated experience. Located in the heart of downtown New York City, Convene's HQ serves as the cultural hub for our corporate team, as well as the home to many other high-growth, established companies looking for an elevated meeting and workplace experience.
Bob: You're talking about the in-building tenant and what you're doing provides tremendous flexibility to the smaller and larger tenants. The landlord, while obligated to a traditional lease, now has an augmentation through what you can offer.
Ryan: When we think about the future of work, we think about flexibility, choice, and experience. It's all about giving employees the freedom to choose where they work, when they work, and how they work.
Tenants moving into a building that Convene operates in can change the way they think about space planning, and their overall footprint in a building. For example, if I'm a smaller tenant, am I going to build out a kitchen for my team or can I leverage Convene and the culinary infrastructure they have built? Am I going to have my own community manager on staff, or can I leverage Convene's community platform to be an extension of my culture within my company?
It's not just flexibility from a physical space perspective, it's about being able to leverage the hospitality and services infrastructure Convene provides in a building to improve company operations and culture.
Bob: You mentioned culture. How does working in a Convene space managed by Convene employees alongside other companies shape Convene's corporate culture?
Ryan: I constantly get asked, "What keeps you up at night?" And it's always been the same thing: scaling culture. Culture is our "special sauce," and what truly differentiates Convene from our competition. Moving to 101 Greenwich was as much about our own culture as it was about what impact we could have on the culture of the companies that are meeting here or cohabitating with us around the workspace here.
Our culture is strongly driven by our core values: GRIT (an acronym for genuine, relentless, integrity, and teamwork). If you study communities, there's always a core set of values and beliefs that, to some extent, aligns a community. At Convene, that's GRIT. This has anchored us, and we have spent a lot of time and energy making sure that we created an environment at 101 Greenwich where our clients and our people have an opportunity to learn and grow.
Bob: Taking what you said, what do you do in the space that is different, or makes the space more cultured? Are there values that bring people together in the way that you just described?
Ryan: It starts with our design principles, which are a reflection of our values and our culture. One of the major principles we follow is "Think Global, Act Local," meaning there's a global typology for the design of a Convene space. The "Think Global" is tied to the idea that guests get a consistent hospitality experience at every Convene location around the world. The "Act Local" is ensuring we design space to make the experience deeply empathetic, not just within the building but also within the community, the city, the region, and also to the end users that are going to be here.
When we designed 101 Greenwich, we designed it with our own personality in mind. One of the quotes we often reference at Convene is, "Space is the body language of an organization." Space is a reflection of you, so it's like looking at your company in a mirror. This space, which is equal parts young and energetic, is balanced with sophistication and turn of the century 1900s grit, and it exemplifies who we are and what we stand for as a company. If I walk around the space in a curious mindset every day I can find something new about it, and part of that comes from the existing architecture and history here. But it also comes from the way our in-house design team brought the space to life.
"Surprise and delight" is another design principle at Convene. We never want guests to be uninspired, so we never want any room to look the same. We always want to surprise guests of Convene with a little bit of magic.
Bob: I've noticed the dark glass when you walk into a room. It reflects light, then once you are in the space the view is outside. It's very special. There's a unique quality to each room. None of them are the same.
Ryan: While everyone that works at Convene shares the same values and sense of purpose, they're all unique. Not too dissimilar from the meeting rooms that have their own personalities, they still feel like part of the same family. If you study great companies and cultures, there is a core set of shared values and beliefs, but I think those companies also embrace the power of individuality.
Bob: How do you, as a leader, communicate that to your team? Is there a way you're using the space to emphasize or reinforce that?
Ryan: We believe that our number one customer at Convene is our employees, and the metric that I focus most of my time and energy on as CEO is employee engagement. Part of the way that we went about designing the space at 101 Greenwich – similar to the way we think about building our learning and development curriculum and structuring our benefits package – all goes back to being empathetic to the people that choose to work for Convene.
Preserving company culture is connected to where your focus goes and where your energy flows. For us, as long as we stay focused on that experience and what it means to work at Convene, we'll be able to scale culture at a global scale.
Bob: You described engagement and empathy. What do you want people to experience when they come into Convene?
Ryan: I want them to feel a genuine sense of place. Space can move people just like a movie, song, book, or conversation. Every time our design team goes through the journey of designing a new space, we think about what we want that feeling for somebody to be.
It's okay if that feeling at 101 Greenwich in New York is a little bit different than the feeling in LA, but I want our spaces move the people in them, and I want them to feel something. We're getting better at doing that every time. That's the magic of it all – the combination of the physical space, the human-to-human hospitality, and the service experience. When I think about my favorite restaurant or my favorite hotel, there's something about that place that feels comforting to me, and at Convene, we're trying to replicate that same feeling for the workplace.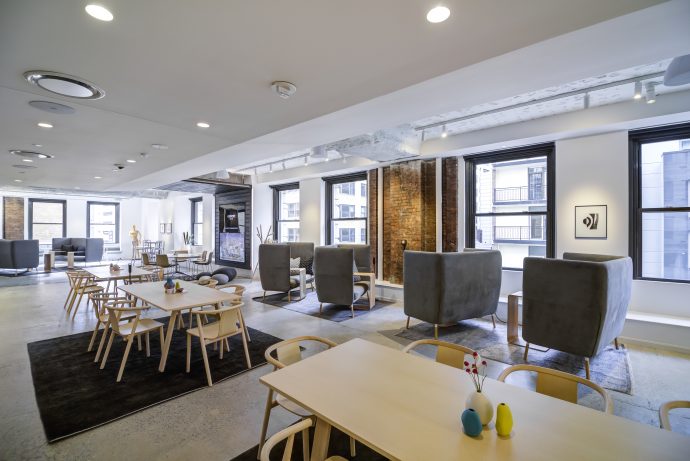 Bob: Your organization has gone through a transformation. Can you describe that change?
Ryan: Our corporate team was previously in a prebuilt suite where we had no impact on the design. I don't even know if we ended up getting to choose our own furniture when we first moved in. We may have inherited half of it.
Going back to the idea of "Space is the body language of an organization" – where we were was not a reflection of who we were or who we aspired to be. Moving our HQ to 101 Greenwich was part of a transformational change within this organization. Starting out as a company in the meetings business to a company that is now in the workplace experience business helped realign our organization around the vision we have for the future.
Bob: I think a lot of organizations are trapped in a space they've inherited. Anything you'd like to share or recommend for people in this predicament?
Ryan: The first thing to do is to let your organization know that you recognize that you're in the wrong space. A lot of leaders might pretend that its fine, as opposed to just saying "This space is not a reflection of who we are." But by picking out your own art, your own furniture, or bringing a certain hospitality or service experience into the office, it will help show people that work for you that you care and recognize there are opportunities for change. Once you're committed to the decision to move to a new space, take advantage of that opportunity to allow it to be a transformation.
Bob: Where do you get the most value out of this space?
Ryan: Having everyone under one roof. The space allows for naturally created human-to-human connections that we call "casual collisions." We designed this space with the principles of activity-based design. I've seen the natural collaboration, communication and conversation, and even the silos in the company breaking down on a daily basis.
Bob: What part of the space are you most wiling to spend money on?
Common spaces. It has been interesting to see that the communal work and meeting spaces are by far our most utilized spaces at 101 Greenwich Street.
Bob: We talked about some of the technology that you use – can you elaborate and how you measure the space and what performance metric your tracking?
Ryan: Earlier this year, we acquired a technology company called Beco. Beco aims to create a frictionless workplace experience through its patented location and mobile software. The company's data platform and solar-powered beacons connects people to physical spaces, and provides landlords and tenants with valuable insights including real-time indoor location information, space occupancy, and utilization of amenities.
The acquisition of Beco helps Convene accelerate the growth of our technology business and provide Convene's commercial real estate landlord partners with valuable location-based insights and data. Convene is currently beta testing their mobile "smart workplace" operating system called Elevate in several buildings in New York City, and will soon be partnering with the nation's largest commercial landlords to integrate Beco's technology product throughout Class A office buildings around the country.
Our 101 Greenwich location is fully censored via Beco, so we're able to understand space utilization in real time, like which rooms are most full and when. This kind of intelligence allows Convene to deliver a better service experience and is also informing the way we think about future product development.
Bob: Is there anything that you've learned since being here that you'll use carrying forward?
Ryan: Yes, balance of space. We're working on refining the right ratio of private workspace versus common space versus meeting space, as well as sizing within meeting space. We're starting to see some interesting insights around this. For instance, this facility is a little bit underweight in meeting space and, if done again, we probably would have built out another few thousand square feet of meeting space based on our current utilization patterns. This fact shows me that the organizations working at 101 Greenwich are more focused on team-centric work, so the need for collaborative meeting space is outpacing the need for individual, private workspace.
Bob: Anything else you think that's important?
Ryan: What's unique about Convene is our partnership model with building owners. We know that the landlord-tenant relationship is changing, and building owners need to think differently about two primary things. The first is flexibility – both in lease term and infrastructure – and figuring out how to offer that to existing and prospective tenants.
The second is around human experience, and how to leverage physical space, hospitality, and technology to better anticipate and be empathetic to the needs of the employees that show up to work at the building each day. Convene has worked hard to be empathetic to the needs of our landlord partners, which are primarily financially driven, and understand how we can use our platform to help them create value, while still creating value for tenants. Each building is like a private marketplace where we can reimagine part of that supply chain to speak uniquely to the demand of tenants in the building.
Bob: Most landlords are constrained by long term debt and being able to underwrite that debt. I'm curious; you're obviously in no long-term commitment with your users…
Ryan: We'll sign two to three-year commitments with our WorkPlace customers, but for the most part, we sell meeting space by the hour or by the day. So there is a long-term lease need (or long-term fixed revenue stream required by the landlord), but then there's the reality of how companies want to consume space today, which is in real time.
Bob: So, what do you see changing, now and in the future?
Ryan: Companies like Convene are becoming more focused on brand management and operating platforms rather than long-term leasing platforms. The way that buildings get valued will also change. The capital markets will figure out the right way to value these assets and in the end, those buildings will trade at a premium to buildings that aren't operating that way.