Our continuing CEOs Talk Workplace series has given us the following unique insight on the importance of CEO presence in instigating workplace change. 
The decision to change, relocate, reposition, or consolidate workspace usually begins in the C-suite. The motivation could be organizational changes, lease expiration, overhead cost containment, shifting corporate initiative, employee engagement concerns, corporate ownership changes…the list goes on. Whatever the reason, the resulting decision triggers a series of events and activities that have a considerable impact on the entire company. How the CEO manages this varies and may have a significant effect on the success of the project as a whole.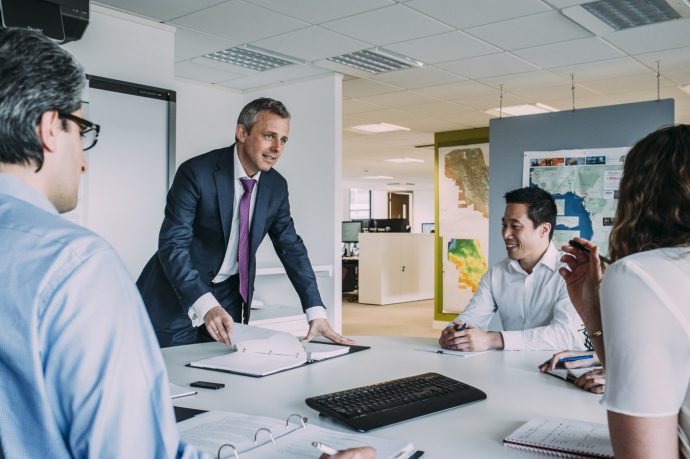 Many articles on stress in the workplace cite that the impact of change on employee engagement and happiness starts from the top. CEO presence can make or break the eventual success of any workplace design project. One of the top ten stressors in life is moving. Although most commonly thought to be changed in residence, changes in workplace location can also be incredibly anxiety-producing, especially if the reasons for change and how the changes will be implemented are not well communicated across the entire organization.
"Change is inevitable in organizations, and when it happens, leadership often underestimates the impact those changes have on employees," said David W. Ballard, PsyD, MBA, head of APA's Center for Organizational Excellence. "If they damage their relationship with employees, ratchet up stress levels and create a climate of negativity and cynicism in the process, managers can wind up undermining the very change efforts they are trying to promote."
Nothing will start the rumor mill faster than when people see folks walking around their office with floor plans, taking photos of conditions, or documenting workstation occupancy. The theme music from Jaws might as well be playing in the background. A lack of communication may derail any executive efforts to send positive messaging about upcoming workplace changes.
Smart CEOs are aware and understand the impact of workplace change, and pro-actively engage the right teams to shepherd them through the process. Coordinating messaging that prepares employees for why and how the changes will occur, how could participate in the process, and keep them updated on an overall timeline, help set expectations and assist in managing the planned changes.
"We had a very intentional goal to demonstrate our brand of highly personal engagement by creating a dynamic and active space, not only for our employees but anyone venturing into our offices. As we designed the space, we not only for our employees, but for anyone venturing into our offices. " –Kenn Fine, Founder and Creative Principal of FINE
When CEOs have a personal vision and passion regarding the design of a new space, communicate this directly to the entire company early and often, and are open to dialogue and input from employees, the net result is overwhelmingly positive.
When changes are not properly introduced or communicated, and there is little employee engagement, the prospects for project success are diminished. Although communication from the top is critical, the commitment of management structure and the trickle-down effect is also vital.
When CEOs and upper management take an active part in instigating workplace change and then consistently participate in the planning process, the whole vibe around the project can change. The ambient attitude can morph from an exercise in swimming among the sharks to more of a relaxing day at the beach. Working in an atmosphere of anticipation rather than dread can yield not only a better design but a better chance for employees embracing the changes.
This concept was summarized in our recent CEOs Talk Workplace interview with Kevin Virostek, Managing Partner at EY. "With our three-year timeline, we made sure that there was a robust change management plan. We brought in our change management professional and set up our protocols the same way we would in any client engagement. In fact, we instituted several of the new policies in our former office and rolled them out six, twelve and eighteen months in advance of the move. Even though the existing space was not at all like the planned new space, we went to a hoteling, clean desk policy. The last six months, even though my office was still mine, I had to reserve it every day. The most significant thing was purging, cleaning and getting rid of all the junk. Implementing these changes as early as possible, made the overall transition much more manageable. We wanted to minimize the amount of change, and I think that worked well. We left one office on Friday and reported to the new office on Monday. Even though the place was different, the policies were already in place, familiar and had already transitioned."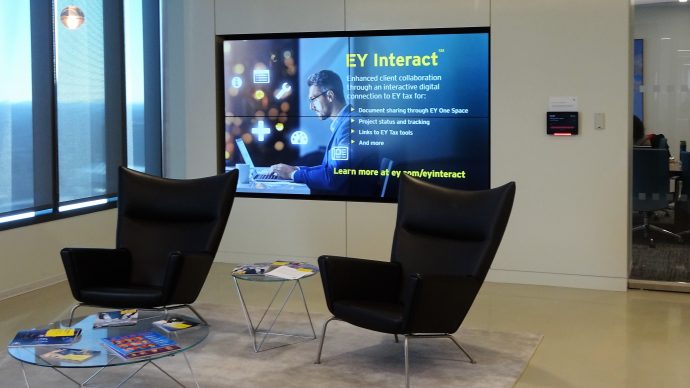 The proactive management of the coming changes in phases prepared the staff for the move and lessened the culture shock of the transition from more a traditional space to the new open, shared workspace concept. One of the best lessons learned from all of our CEO interviews is the importance of getting ahead of the curve by promoting the changes in advance, and clearly articulating why the changes are being made. This is the best way to navigate all the complex issues associated with a workplace relocation or renovation.
Most of our CEO interviewees that played an active part in the planning and design of their workspaces emphasize the value of providing space that can embrace and defines corporate culture. "Our business is based on three very strong values: Service Spirit, Team Spirit and Spirit of Progress," said Lorna Donatone, CEO of Sodexo. "Those three values run throughout our business. Our culture is fundamental to the quality of life for our employees, customers, and clients. We believe that if we improve the quality of life for our employees and our customers, people are going to perform better."
In discussing a recent workplace change in Sodexo's Buffalo, NY facility, Lorna Donatone emphasized the importance of providing an environment to support full employee engagement. Critical design elements were selected to foster an atmosphere of inclusion and reinforce the company's expertise and capabilities to their customers. The space not only becomes functional and productive but is also a living lab that demonstrates, "this is what we can do for you."
"As a CEO, one of my primary responsibilities is to attract, hire, inspire, and retain the best and the brightest," said James Schenk, CEO of PenFed. "I must have employees who can outthink, out-execute, and outrun our competitors. And in order to do that, you need to pay well and you need to provide great benefits. And one benefit that [everyone] appreciates is quality workspace and quality equipment. They need the right resources to accomplish the goal that they've been given. Great workspace design and technology allows that to happen."
Kevin Virostek of EY reinforced that view with his comments on the improvement in employee morale after the move to their new space: "In our new offices, people are happier; you can feel more energy. Our former office space was sterile. Here is more open space is brighter, people look forward to and go out of their way to come in. That drives higher morale, higher retention. In the end, this has a positive financial benefit to the business." 
Most of the CEOs we have interviewed have not implemented a specific set of metrics to measure space performance quantitatively. However, there seems to be universal consensus that their improved work environments have provided a space that increases employee performance and productivity, and is a significant tool to recruit and retain talent.
Studies including Haworth's 2017 study point out that there is a definite correlation between work environment, employee engagement, and the resultant benefits to companies that embrace design as a tool to achieve their business goals. Our observations as we continue our CEO Talk Workplace series display that these goals are achievable especially if the pursuit of better design solutions, specifically tailored for their culture and employees, starts at the top.
Interested in seeing who we interview next? You can continue to follow our CEOs Talk Workplace series through a free subscription to our weekly newsletter here!