Hickok Cole's design takes all users – from employees and clients to maintenance and cleaning staff – into consideration, reflecting Nava's commitment to equity and inclusion.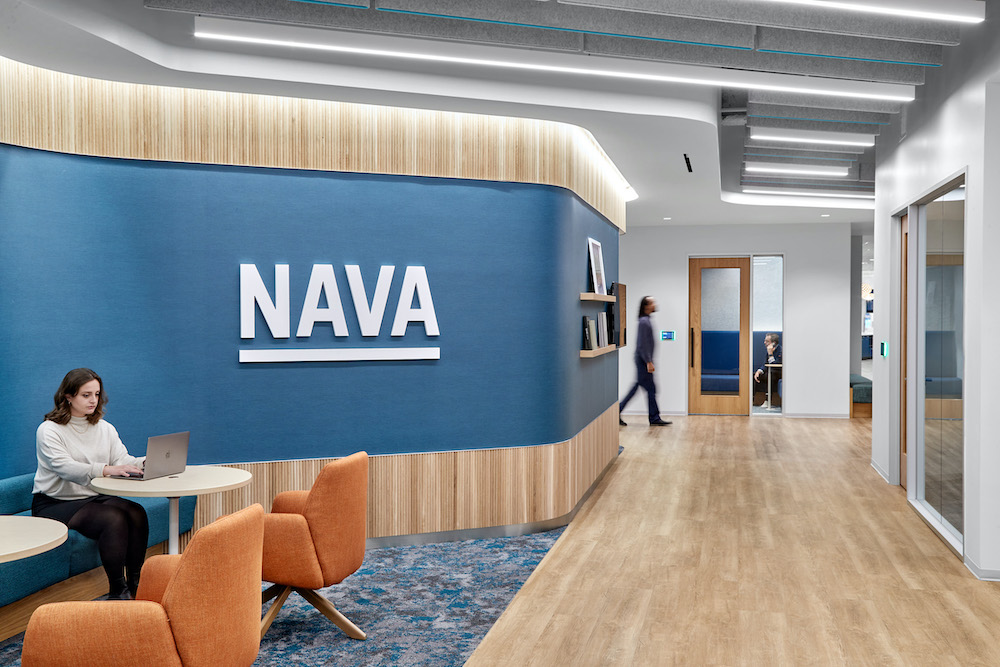 Located in a historic office building in Downtown, Washington, D.C., Nava PBC's new 17,000-SF headquarters embodies the spirit of public service and puts its mission proudly on display. Branded details showcase Nava's unique, inclusive culture while thoughtful programming prioritizes flexibility, accessibility, and comfort to promote diversity and connection within all facets of the organization.
Project Overview:
Design Firm: Hickok Cole
Client: Nava PBC
Completion Date: August 2021
Location: Washington, D.C.
Size: 16,744-SF
Average Population: 100
Nava's new space considers all users, from employees and clients to vendors and building management. Throughout the office, several neighborhoods composed of private and shared workspaces take an inclusive approach to the workspace that considers sensitives to light, sound, and visual distractions by providing additional levels of controls at the neighborhood level and equitable distribution of support spaces that allow occupants to find the area best suited to their needs. Designers determined the ideal desk size and workstation groupings within a neighborhood based on several studies to create an intimate community. Customizable workstations empower employees to choose their work style preference with dimmable lighting, adjustable-height desks, acoustic ceiling clouds, and access to views and sunlight. Pin-up boards at desks allow for personalization in a hoteling environment while shared whiteboards, key to Nava's ideation process, are each neighborhood.
Having already put in place a liberal work from home policy before the pandemic, Nava establishes its headquarters as a destination worth seeking out with new spaces that support various work styles as well as provide social opportunities. All of which are designed to support better alignments and circulation within the office. Sound-proof phone rooms accommodate independent or private work while small to medium sized meeting rooms offer video capabilities that mimic in-person experiences for remote workers. A library, private lounge areas, communal tables for puzzles, and flexible, ergonomic furniture offer the comfort of home in an inclusive, somewhat residential environment while a central conference center with operable partitions leading to the café make gathering with colleagues and clients, easy. After hours, a speakeasy-style elevator allows for secure access directly to the street. Finally, a wellness suite with a transition door for privacy houses treadmill desks, two multifunctional wellness rooms, and a non-gendered restroom.
Today, Nava staff are united across a welcoming and collaborative workplace environment that highlights their mission, brand, and culture, while remaining confident in its ability to transition alongside the public benefit corporations evolving needs.
Project Planning
As is typical of Hickok Cole's approach, The C-Suite was involved in planning. The design process begins with a standard visioning or discovery session which includes interviews with the c-suite executives and staff surveys. That being said, a design committee of employees from across the company was assembled by the business operations team and was heavily involved throughout the decision-making process as well. C-suite level executives had the ultimate decision-making power but took care to make those decisions after hearing feedback from the committee and all other employees.
While the C-Suite was involved through the duration of the project, design presentations and decisions were presented to a larger cross-company audience and then distributed internally to solicit feedback from all employees. During the programming and discovery process the design team also engaged with focus groups from across the organization regarding challenges of their previous work environment and their workspace and collaboration needs particularly within hybrid teams.
Embracing new technology and tools, visual communication strategies, and employee feedback was paramount to prioritizing inclusivity and imagining the future of Nava's office. Transitioning from an in-person to a virtual design process required re-thinking communication strategies and leveraging interactive presentation programs to solicit feedback. Nava was adamant about ensuring all voices were heard and assembled a design task force with representatives from across the entire organization (even outside DC).
To preserve the building's historic character, Nava's floor plan prioritizes special gathering spaces around the office's most unique elements including existing fireplaces, brick archways, and views of the monuments.
The existing space consists of three structures built at different times (beginning in 1888) with different construction typologies. Anticipating challenges, the designers, engineer, and contractor worked closely to resolve anticipated structural issues and unexpected conditions caused by an irregular floor plan–from restoring hazardous, decrepit areas to identifying hollow portions of brick and slab misalignments. Electrical connections were reworked for several major spaces because glass ceilings in tenant spaces below prevented core drilling.
Project Details & Products
Health and Wellness Initiatives and Furnishings
A wellness suite with transition doors for added privacy features a gender-neutral restroom, treadmill desks, and cold storage. Finishes are low VOC content. Original brick walls and marble floors are preserved and incorporated. Energy-efficient systems like LED lights replace outdated versions.
All furniture is antiallergenic and uses easy to clean and sterilize materials. Meeting rooms feature round tables instead of rectangles that put one person in a seat of power while larger training rooms feature square configurations. Lounge chairs are designed with wider seats and arm rests to suit all bodies, ages, and mobilities.
Colors and patterns used throughout take color-blind and neurodiverse people into account by creating contrasts or avoiding certain tones and graphic styles.
Branding Elements
Inspired by the Nava brand, a neutral blue palette complements the use of natural warm wood and original exposed brick, creating contrast through soft, tactile wallcoverings and felt luminaires. The sheer variety of colors, textures, and spaces showcases Nava's casual, welcoming culture in a professional atmosphere appealing to its government and corporate clientele.
Display areas and shelving offer opportunities for branded graphics and signage depicting diverse demographics, while providing storage for the games and activities inherent to Nava's culture.
While Nava's headquarters has two entrances, its main public entry is distinguished with a high contrast, dimensional white logo against a teal textural wallcovering. The rear employee-only entrance is more subtle but welcoming featuring a white-on-white recessed logo and teal edge paint.
A key to the space's functionality, neighborhoods are clearly identified for easy hoteling desk access by all employees. Inspired by the layered approach of the surrounding finishes, neighborhood signs are easy to spot and read, yet seamlessly integrated as two-toned, circular signs, suspended from the ceiling.
Additional room signs and glass graphics blend in with branded colors, patterns, and detailing, while ensuring full accessibility and privacy when needed.
Most Unique Features
The space exceeds ADA minimums, ensuring that the space is accessible and maneuverable for all. Radiused corners and strategically located trash bin are designed to improve the maintenance staff experience while encouraging exploration and interaction between neighborhoods. The panty design – including counters, seating areas, and storage space – is also accessible for all heights and mobilities.
Every area in the plan has access to multiple light sources so that occupants can choose the type of lighting that works best for their needs.
Train car phone rooms featuring banquette and mounted screens anticipate the continued virtual/hybrid meeting format. Meeting spaces that are smaller in scale offer a similar level of intimacy as a face-to-face meeting, unlike a large conference room.
Finally, from C-suite executives to interns and everyone in between – all have the same desk set-up, underscoring a commitment to equity.
Project Summary
Project Team:
Photography credit: