This is the fifth and final article in our series on the Workplace of the Future. The first article featured A Brief History of the Workplace of the Future. Part two highlighted the workforce, three featured the commute, and four examined the building. How does it all come together?
What does the workplace of the future look like? How do we deal with a world where technology drives change at such an accelerated pace? What type of work will people do in the future? How will people commute? How does geopolitical unrest, climate change and Artificial Intelligence chance how we work? Can we future-proof buildings and businesses?
Emerging Themes
Through research, interviews, experience and imagination, we examined the workplace through three lenses: the worker, the commute, and the building, and five key themes emerged:
Flexibility is Paramount
Future-proofing is not possible, but future-flexing is. The most successful workplaces are designed to adapt to the changing world around them. Whether it means enabling flexible work to attract the best talent, selecting sites with future development or exit strategy in mind, or shifting technological investment away from hardware toward open-architecture software, companies need to plan with transition in mind.
Technology is the Ultimate Enabler
Advances in technology continue to serve as the ultimate driver of innovation and change in the workplace. Technology dictates how, when and where we work and collaborate. Technology allows smaller companies to connect and collaborate in previously unaffordable ways. It enables the flexibility that workers seek while enabling meaningful cost savings for organizations of all sizes.
Everything is Connected
The Internet of Things will become more aptly described as the Internet of Everything as emphasis shifts from products and gadgets to omnipresent networks that are fast, smart and invisibly integrated into our surroundings. The immense amount of data these networks capture fuels efficiency, innovation and invention, from personalized environments to driverless, flight-enabled cars.
Personalization is Prioritized
We continue to create environments that enable peak productivity across a highly diverse population. Right now, that means inclusive design, flexible work schedules and offices that promote choice and control. As time goes on, these choices will become increasingly automated and personalized as big data enables the development of adaptable environments to suit individual needs.
Environmental Threats Necessitate Change
As a major contributor of atmospheric greenhouse gasses, buildings and transportation have already made significant strides in reducing environmental impact, but expectations will continue to rise as our buildings are required to adapt to changing global landscapes. With rapid development across the globe, architects and designers are responsible for ensuring that these structures do more good than harm.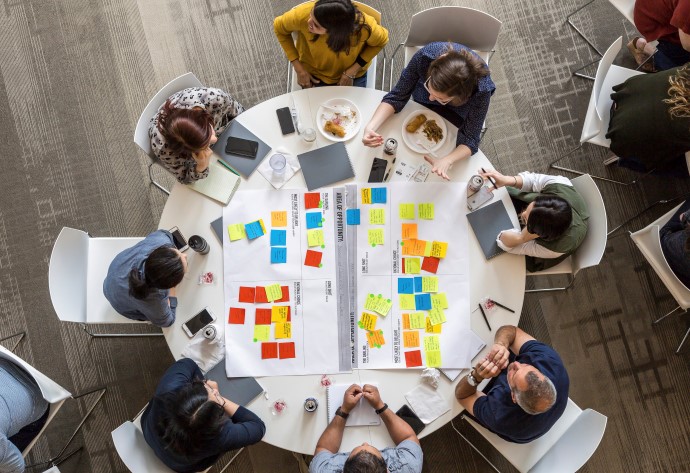 Predictions
We anticipate major shifts in the design and operation of the workplace over the next quarter century as innovation charges forward at an exponentially rapid pace. Many organizations already embrace a variety of alternative designs; in some cases, the workplace of the near-future is already upon us. The more far-flung predictions are prone to variability. Some ideas may never become reality; others may happen sooner than we think.
1-5 Years (By 2022)
In the next five years, we expect to see a continuation of current trends as smaller and more conservative companies and industries take on ideas long championed by those at the forefront of workplace strategy:
Companies will continue to shrink real estate footprint to cut costs and support the changing nature of the workforce.
The number of independent workers continues. Within five years, contractors could make up to 30% of the total workforce.
Inclusive design principles will expand to support an aging workforce, providing spaces that address changes in visual acuity and fine motor skills among others.
Access to amenities in and around the workplace, including housing, will be prioritized.
Car-centric commutes will continue as infrastructure catches up to innovation, while longer commutes—both duration and distance—drive the need for flexible work options.
Building maintenance and facilities teams will become increasingly tech-savvy.
Building modules will become smaller and more flexible to accommodate organizations with rapid growth or contraction.
Alternative materials and processes such as 3-D printing will become mainstream in the built environment.
The drive to improve human health and wellbeing will lead to wide-scale adoption of programs such as WELL® Building and Fitwel®.
6-10 Years (by 2027)
The ten year time frame is a more extreme continuation of current trends:
Building owners will generate additional revenue through innovative design and management strategies. Less is owned, more is shared.
The lease will be rethought, following the on-demand economy. Terms are simplified. Durations are shorter, and many companies move to on-demand offices.
Smart buildings and offices will dominate the landscape, with increased modularity of buildings and systems to enhance adaptability.
High-definition video will become ubiquitous, making it easier to collaborate from afar and making security less visible and intrusive.
Highly connected wearable tech will rise, and space will be increasingly controlled via sensor systems and interconnected infrastructure. Cybersecurity is paramount.
Speed of infrastructure development will limit the pace of technology expansion.
Self-driving cars and driverless on-demand pod-cars will change driving and parking infrastructure.
Regulations for environmental impact will continue to tighten and drive design decisions.
A truly 24/7 workplace will change operations and productivity expectations.
5 Years (by 2042)
Robots and automation in the office change everything:
Work cannot be completed without technology.
Job functions will likely change, with many of today's jobs replaced by artificial intelligence and/or robots.
Presence of robots may impact requirements for fire and life safety design.
High-tech workspaces will require changes to air quality, power and plumbing.
The building and the workplace itself will become a machine.
Climate change and infrastructure drive a new way of working:
Flying cars will change transit hubs and how parking accommodations are designed.
High-speed transit will become ubiquitous.
Building construction and operations may minimize or even reverse negative environmental impacts.
Development will move away from flood plains where possible.
Coastal cities will see intensive design innovation to address challenges of sea-level rise and weather events, with the potential for underwater and supertall structures that require a whole new set of design and operations skills.
Revamped elevator design, space ports, the death of the loading dock and worldwide autonomous energy generation will completely change how we see office buildings.
The building lifecycle may shorten from 40 years to 20-25 years.
Autonomous energy generation will occur worldwide and reduce reliance on public utilities, freeing businesses to operate truly independently.
What if…
We challenged ourselves to think not only realistically about what could happen in the future, but also the extent of what might happen if major disruptive change occurred. We leave you with our list of what ifs:
…we are chipped and no longer need devices to research, process and communicate?
…we reach singularity and Artificial Intelligence takes over?
…an alien species (benevolent or not) becomes known on our planet?
…public transit doesn't exist?
…climate change eliminates all transportation options that do not use clean fuel sources?
…teleportation becomes possible?
…Earth becomes uninhabitable, and we colonize Mars?
…buildings can float in the air?
…a massive global security scare (or artificial intelligence) reduces our reliance on technology?
…building underground becomes safer and more affordable than building above ground?
Think big, dream big, and we'll see you in the workplace of the future!