Kevin Virostek updates us on EY's move to a new office in Tysons, VA and the impact it has had on their employees and business in this location.
Bob Fox: EY is a large global organization. How would you describe your business overall, and specifically a bit about the new Tysons Corner area location?
Kevin Virostek: EY is a professional services firm with over 250,000 employees worldwide. We focus on four major practice areas, assurance, tax, transaction, and advisory services. There are multiple supporting business lines under those four main organizations. Our goal is to provide our clients and stakeholders with best in class services to support their business success. There are 60,000 U.S. based employees and approximately 2,500 here in the D.C. area.
What about the demographics of your workforce here in the D.C. area?
Our workforce skews on the younger side. The nature of our business is such that for many it's their first job after graduation. Seventy percent of our employees are millennials! We carefully recruit to bring in the best and brightest people, and through our mentoring and sponsorship through more senior staff, allow those employees to matriculate up through the ranks of the firm. Our new hires are given much responsibility early on in their career and that mentorship provides them the opportunity to succeed.
Can you give us some insight into the EY culture and how that manifests itself in the design of your new office space?
The decision to relocate our office in the Tysons area was a three-year journey. We understood that we needed to make physical changes to support the way we work in today's business environment and create a place that would appeal not only to prospective employees. We also needed to encourage current employees and foster a collaborative environment that would promote mentorship opportunities. We wanted the space to be a tool that would increase connectivity from the highest to the lowest level of the firm. We believe the continued development of our people will in turn affect the success of our business.
How does the space support your business goals and how are those goals communicated in the new office?
Our greatest asset is our people. We aim to attract and retain talent to keep up with the strong demand for our services in today's shifting business and economic landscape. We are working more in-depth with existing clients and engaging new clients. Our priorities around our people and clients are communicated in a number of ways and a big part of the culture is represented by the space in which our people work.
Is there a specific example of something in the space or some functional element that communicates that goal?
One of our early decisions was to move to a 100 percent hoteling workspace. We did not want the corporate hierarchy to be expressed in the new office design. There are no prominent executive offices and we all have the same workspace out in the open. We felt that our space had to contribute to the open communication and collaboration we are trying to promote culturally. Today, I am sitting in a workstation with an executive assistant on one side and a new staff member on the other. I am physically accessible to either, and being in that proximity allows me to mentor as needed. However, when I need space to conduct a confidential conversation or meeting, I can utilize one of our private rooms.
Having the assortment of different environments surrounding the open space makes it easy for everyone to choose the type of space they need for any interaction that is required. Our technology allows flexibility across the entire facility.
Can you elaborate on the technology factor? Many companies seem to struggle with that element.
Our three-year timeline allowed us to develop a game plan for integrating new technology into the new workspace. We always had a placeholder for the technology decisions, as the products available when we started might be out of date when we planned to move. During the last six months, we made the final decisions on what technology would be installed to support our new ways of working. The critical factor for consideration was how we would utilize the technology to help the collaborative environment we were striving to create.
The process starts from the minute you walk in the door. When I arrive at the office in the morning, I can pull up a 3D image of the space and can see where everyone I need to work with that day is sitting. If I need to work with a particular team, function, or industry group, I can be in proximity to them that day. Anyone checking into the office can pinpoint who they need to see at any given time. Once I am checked in, my technology follows me, and my phone number connects to my selected location. As I go through the day and work in a variety of settings, the technology is there to support what I need to do. All of our meeting spaces have wireless, embedded technology. I can click a button and share my screen or electronic whiteboard, for example. The speed of connection allows us to work in actual space and time across geographies. Our goal for seamless collaboration was met by carefully evaluating and selecting a technology platform to support our work.
A significant portion of your staff is working remotely due to the nature of your consulting work. How does EY accommodate those workers and keep them engaged?
Our initial fear when we decided to move to a 100 percent hoteling workplace was that this would discourage people a from the office and thus primarily telecommute. The reality is that we are seeing an increasing number of remote workers coming into the office. We think the innovative work environment and technology tools have allowed them to work better, faster, and provided more opportunities to engage in-person with their colleagues.
The new office provides seating for approximately 40 percent of our Tyson office professionals. If everyone came to work on the same day, we would quite uncomfortable. But because many of us are traveling or working off-site, the space efficiently manages the number of people that do come into the office. We wanted to ensure that when people did choose to work in the office, the space was inviting and a place where they could be most productive. Productivity is focused on the collaboration elements in place to support the work we do.
Are there any other programs or policies in place to keep remote workers engaged?
We think the professional maturity of our staff manages that. We spend a lot of time up front in our recruiting process to make sure that we bring in people that can succeed in our culture. A sense of personal responsibility, drive, and intellectual expertise are essential. Leveraging our senior staff as mentors also help to bring people along as well. Our workspace may not be the right solution for some people, and we try and assess that as part of the recruiting process. We also have programs and mentoring for those that have been with the firm for a while and were accustomed to the traditional style of working to ensure they are comfortable in the new space.
How do you view the new space, concerning innovation and solving problems? How does your technology help with that?
The open space is the key to the innovation we see in our new offices. It is all about collaboration. Great ideas come from collaboration – interaction and dialogue among a group of people. Having the open environment has helped get creative juices flowing. In our world, innovation is key – how do we improve a process, achieve faster solutions, or get to a complex business structuring faster? How do we work with greater confidence that our solutions are correct? Speed and accuracy in getting to business solutions are critical.
Where do you find that you get the most value from your workspace?
Our talent. In our new office, people are happier; you can feel more positive energy. We have more open space, its brighter, people look forward to, and go out of their way to come in. That drives higher morale and higher retention. In the end, this has a positive financial benefit to the business.
There are a lot of branded design elements in the space. What was the strategy behind those efforts?
We are a purpose-led organization. We are finding that people entering the workforce want to work for companies that are more aligned with their mission and values. Our corporate purpose is "building a better working world," and we want our people to share that vision. Our messaging was formerly communicated in printed brochures or other static elements but is now brought to life via our murals and wall graphics. Even our lighting incorporates the EY beam embedded in the design. You can't walk 10 yards in the office without seeing one of our essential messages. Traditional framed artwork has given way to more modern branded messaging. Whether you work here or are visiting a client, you will know that you are in an EY space.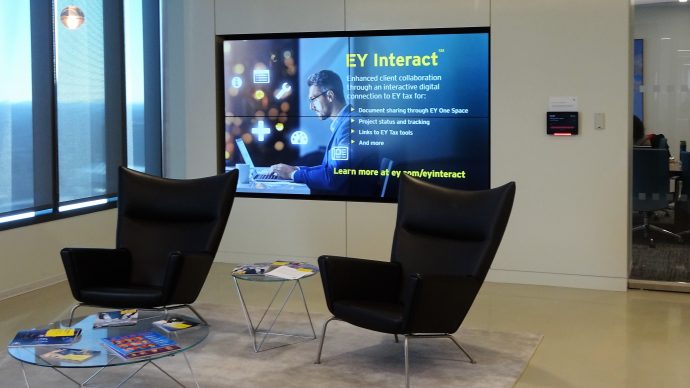 What communication tools do you like to use?
My two feet! What I like best in the new office is the ability to walk around and see people. That has been key. I have had others tell me that has been their experience as well. One partner shared, "I have said hello to more people in the past two weeks that I did in the past two years." I like to walk around and casually check in with people. I find that those random hallway interactions have value in keeping the pulse of what's going on. We do have message boards and emails, but there is more value in face-to-face interactions.
What is one of the most exciting things that happened with the move to new space?
Getting the senior partners out of their private offices has made a difference in the whole working atmosphere. Asking all the partners to give up their personal space was asking them to lead by example. The leadership group embraced the concept and strategically urged everyone to use the space the way it's designed. Some needed more encouragement than others, but now an outsider would have a hard time telling who was more senior (absent the gray hair), just by looking around the office! The integration of the entire professional staff is what pleases me the most.
Are there any metrics you can cite that indicate how space is performing for EY?
We can review data from badge swipes. This gives us a picture of who is coming in and out of the office on a regular basis. The more critical information will be from our evaluation of our annual engagement index. We do that yearly. That survey was taken right before our move in May, so it will be interesting to compare results after next year's survey. The questionnaire asks employees how they feel about their professional growth, career advancement, and work environment. Our hope and expectation is that there will be even more positive feedback as a result of this move.
Where are you most willing to target budget dollars?
The most significant expenditure will be to keep our technology up to date with advances in collaboration tools. This has been the key to the success of our new space. Cutting-edge technology is what is needed to support the completely open and flexible workspace concept. Eliminating paper-based documentation also requires sophisticated and continually improving technical resources. Those items have had a substantial financial impact on operations. We also want to keep the space fresh, but the investment in technology is the most critical item for investment.
Was there a change management plan?
With our three-year timeline, we made sure that there was a robust change management plan. We brought in our change management professional and set up our protocols the same way we would in any client engagement. In fact, we instituted several of the new policies in our former office and rolled them out six, 12 and 18 months in advance of the move. Even though the existing space was not at all like the planned new space, we went to a hoteling, clean desk policy. The last six months, even though my office was still mine, I had to reserve it every day. The most significant thing was purging, cleaning, and getting rid of all the junk. Implementing these changes as early as possible made the overall transition much more manageable. We wanted to minimize the amount of change and I think it worked well. We left one office on Friday and reported to the new office on Monday. Even though the space was different, the policies were already in place and familiar.
Anything we missed?
It's definitely a challenge to move to a hoteling system. It strips away the ability to personalize your workspace. You no longer have that place for family photos or kid's artwork. So, how do we create a space that is not completely sterile? People are creative. I have noticed in our new offices; people have two monitors and a laptop. You will see one with a spreadsheet, one with email, and one with a family photo screen saver. People find ways to make space work not only for the company, but for themselves as individuals.